Interest rates on housing loans likely to be lowered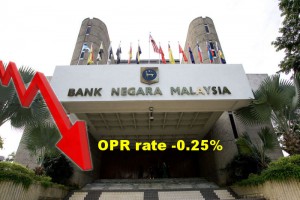 Interest rates on housing loans offered by some banks will likely be adjusted lower in the coming weeks in tandem with the 25 basis points (bps) cut in the overnight policy rate (OPR).
Analysts said while banks in Malaysia were expected to revise their base rates (BR), which are the benchmark lending rates, to reflect the new OPR which has been reduced to 3% yesterday from 3.25% previously, the change will unlikely be significant.
At least one analyst said some banks might not follow suit.
"The cut in the OPR certainly sends a signal to banks to reduce their lending rates," a banking analyst told The Star.
"But because banks are free to set their BR, not all will cut their rates immediately.
"Some banks that are already offering relatively low rates will find it hard to cut their BR, while banks that have high BR can better afford to lower their lending rates."
BR offered by local and foreign banks currently range from 3.20% to 4.15%.
Analysts said banks would likely announce their new BR within the next two weeks.
Bank Negara yesterday cut the OPR, which is the rate at which banks lend to each other, by 25bps to 3% in a pre-emptive move to cushion the impact of slowing economic growth. This was the first rate cut since 2009.
The last OPR adjustment was in July 2014, when the central bank raised the benchmark interest rate by 25bps to 3.25%.
Source: TheStar.com.my