An interesting development concept by Hampshire Group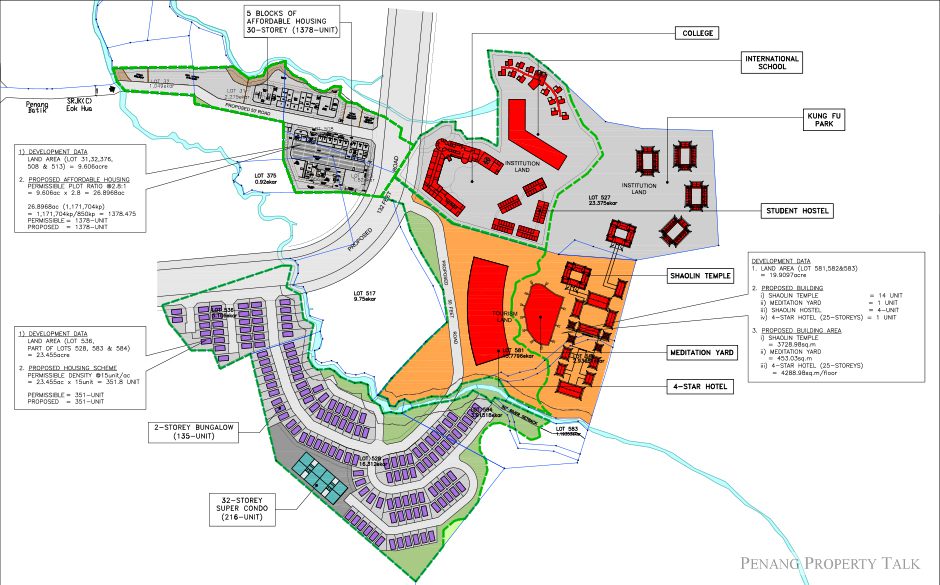 A Shaolin martial arts temple, international school, college, four-star hotel and over 2,100 residential units are planned for the huge piece of cleared hill slope forest near Teluk Bahang.
The temple will cover approximately 40,000 sq.ft. with a 4,800 sq.ft. meditation yard. The proposed hotel will be 25 storeys high on a 46,000 sq.ft. plot.
Housing units being planned include 1,378 affordable housing units in five 30-floor towers, 351 terraced and semi-detached houses, 135 two-storey bungalows and 216 "super condos" in a 32-floor tower.
The condo tower is laid on the development plan at the fringe of the land near Teluk Bahang Recrea­tional Forest, overlooking the dam.
According to the developer, this is still a concept and they have yet to start the feasibility study of the plan.
For the affordable housing, the developer is planning to build 1,000 sq.ft. unit with facilities such as swimming pools and gymnasiums, and price it around RM300,000 per unit.
Location Map: