Juru Interchange Upgrade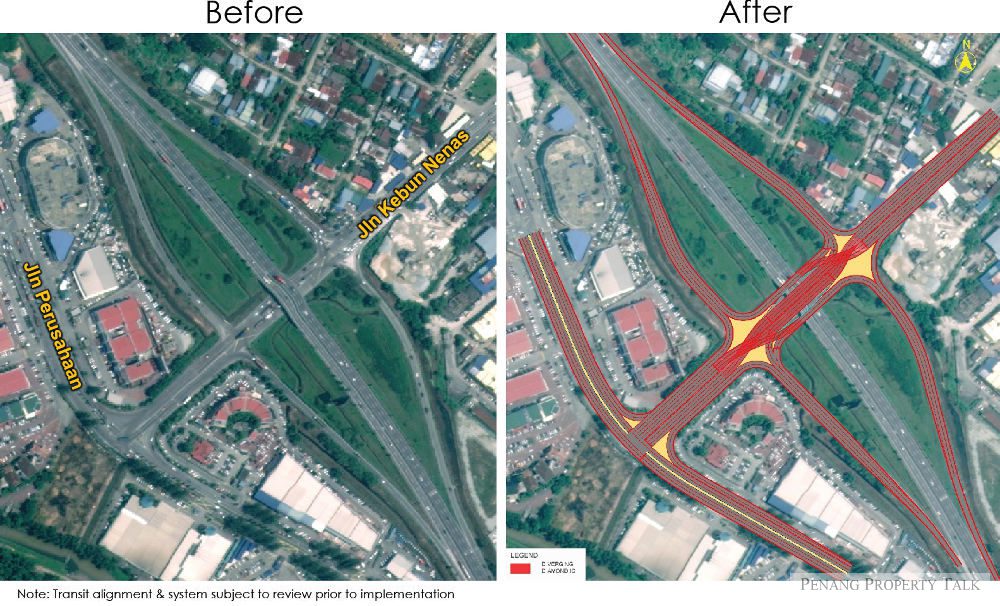 As part of the Penang Transport Master Plan (PTMP), the Juru Interchange is expected to be upgraded into a "Diverging Diamond Interchange". Also called a double crossover diamond interchange, is a type of diamond interchange in which the two directions of traffic on the non-expressway road cross to the opposite side on both sides of the bridge at the expressway.
The proposed upgrade will help address the severe congestion that occurs at the interchange along the North ­South Expressway and at the Jalan Kebun Nenas-Jalan Perusahaan signalised T–junction, which is only 160m west of NSE.
One of the main problems that cause congestion at the existing signalised diamond interchange is that it is operated with long cycle times during peak hours, comprising of four split phases.
During peak hours, long queues form on the approaches and the high turning movements onto the NSE also result in persistent 'weaving' (conflicting lane changes). Long queue times and 'weaving' significantly reduces the efficiency of the inter­connecting junctions at the interchange.
The proposed Juru IC improvement scheme to mitigate the current congestion essentially involves:
Lane widening.
Converting the Juru Interchange into a "Diverging Diamond Interchange".
Synchronising traffic signal timing with the Jalan Kebun Nenas-Jalan Perusahaan junction.
This is definitely a good news for those are are staying around Juru, Bukit Tengah, Bukit Minyak and Jalan Song Ban Kheng.
* Click here to find out more about Penang Transport Master Plan (PTMP) *