Property Stratagems 2016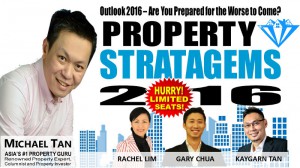 For the first time in 2016, Property Stratagems is coming to beautiful Penang. We have assembled the Heavyweights in the property investment scene in Malaysia all in one place on the 23 & 24 April in Northam All Suites Penang.
These Speakers and Trainers have very busy schedules and it is not easy to get all of them together in one place at the same time to be in Penang.
They have helped many achieve their financial freedom journey and quit their 9-to-5 job. If you are looking for an alternative or options in life, don't miss this chance to meet them in person. You could be the next to quit your job and pursue your passion, if you so desire.
The Speakers and Trainers
Michael Tan, founder of the highly successful No Money Down Strategy, also known as the Millionaire Maker, will share with you the Property Outlook for 2016 and how to get prepared for the 2016 and beyond.
Rachel Lim, known as the flipping queen, made her millions from buying and selling properties. She will be here to share with you her journey and how you too can flip your way to freedom.
Gary Chua, formerly a Senior Banker, is now a Finance Coach and have assisted many Home Buyers and Investors to creatively get more financing to continue their property journey. He has successfully mentored and helped investors multiplied their portfolio to multi-million-dollars worth in less than a year. He will be sharing some of this creative financing strategies with you.
Kaygarn Tan, fulltime Property Investor and Property Coach, have coached hundreds of have personally coached hundreds of individuals to buy properties with profitable returns and generating positive monthly cashflow. He will talk about the property market in Penang and how you can profit from the market in 2016.
Come and discover the strategies to invest in properties for year 2016 and beyond.
In every adversity there is opportunity and the Trainers will share how to identify these opportunities.
Our Gold Seats are fully sold out. Congratulations!! to those who took action.
Now, there's only 17 Silver Seats available for grabs.
Book your seat here NOW before we sell out:
[Sponsored]