Berjaya Land provides affordable homes for first-time buyers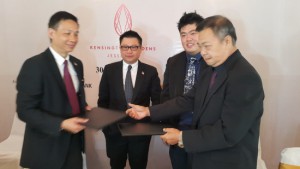 Potential first-time home buyers will have a chance to own affordable homes in environmental friendly surroundings through the Berjaya Land Berhad (BLand) Jesselton Villas project near to Penang Turf Club.
Berjaya Land Bhd (BLand) executive director Eason Phan said the company was looking forward to build the 500 units of affordable housing for the people, especially first-time home buyers.
He said the homes, expected to be priced in the range of RM300,000 with units from 800 to 850 sq ft, would provide an opportunity especially for young people to own a home.
Phan also noted that they were very meticulous in planning and will be announcing the ground breaking ceremony when time comes.
He said that the state government had already imposed regulations to ensure that developers build affordable homes for the people when constructing a project.
"We are expediting the launch of affordable housing," he said after witnessing the signing agreement contract with Ban Soon Aik Construction Sdn Bhd for infrastructure works at the Kensington Gardens, Suffolk House today.
Signing on behalf of Berjaya Land Development Sdn Bhd was director Victor Leong, while Ban Soon Aik Sdn Bhd was represented by managing director Ooi Ah Soon.
Also witnessing the ceremony was Ban Soon Aik Sdn Bhd director Ooi Guo Chean.
The 26 acres (10.52ha) of Kensington Gardens is the first parcel to be developed out of the three parcels in the project. It consists of 69 units of bungalow lots ranging from 5,995 sq ft to 9,634 sq ft in size.
Phan said the company was proud to work with Ban Soon Aik Construction on the infrastructure works for Kensington Gardens which include internal road works, street lights, drain work, underground incoming power cables and telecommunication cables installation.
"60% has already been sold to mostly locals," he said, adding that it is scheduled for completion in May next year.
Source: TheSundaily.my