Property sales hit RM79m as fair enters third day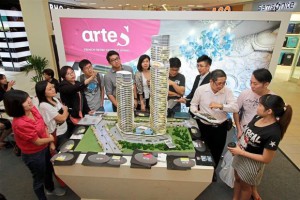 Some developers at the Star Property Fair 2015 were able to register RM79.2mil in sales despite the current economic challenges.
Eco World Development Group Bhd (RM14mil), Asia Green Group (RM5.4mil), Tambun Indah Land Bhd (RM6.8mil), Ideal Property Group (RM10mil), Numestro City Sdn Bhd (RM3mil), and the developers represented by Zeon Properties Sdn Bhd were the ones which recorded good sales.
Zeon chief executive officer Leon Lee said the company sold about RM40mil of properties from the developers it was representing.
The projects exhibited by Zeon were Ewein Zenith's City of Dreams in Gurney Drive, Aroma Development Sdn Bhd's Starhill in Sungai Ara, Bionic Land Bhd's Prominence in Butterworth, Trimension Properties' GMansion in Bukit Gambier and KB Group's Sang Sarang in Lumut.
Eco World Development Group Bhd general manager Khoo Teck Chong said the group sold about RM14mil worth of properties in its Eco Meadows (Bukit Tambun) and Eco Terraces (Paya Terubong) projects.
Asia Green Group director Tan Li Mei said the group sold RM5.4mil worth of properties in its project called The Clovers in Sungai Ara.
"We have set a sales target of between RM18mil and RM20mil for the Clovers at the fair."
Tambun Indah Land executive director Teh Theng Theng said the group had sold about RM6.8mil worth of properties in The Rain Tree and Pearl Harmony projects.
Ideal Property has sold approximately RM10mil worth of properties in its Forest Ville and One Foresta condominium projects in Bayan Lepas.
Nusmetro senior marketing executive Ng Jo Wen said RM3mil worth of properties in the Arte S project in Bukit Gambier were snapped up.
He said about 30% of the Arte S properties exhibited at the fair were priced below RM1mil.
Meanwhile, a Tropicana Ivory Sdn Bhd spokesperson said the more than 80% of the 1,343 Tropicana Bay Residences units had been sold.
"We are now trying to obtain feedback from the public on the popularity of retail and office properties.
"The feedback will help to determine what should be developed for the commercial phase of Penang World City," the spokesperson said.
Sunway Bhd is showcasing RM628mil worth of properties in its projects in Batu Maung, Bukit Mertajam and Kuala Lumpur.
The projects in Penang are Sunway Cassia double-storey semi-detached houses in Batu Maung, which will be launched in 2016, and Sunway Wellesley three-storey semi-detached houses in Bukit Mertajam.
In Kuala Lumpur, the project is called V Residence Suites with a RM378mil gross development value located in Sunway Velocity, an integrated development.
Source: TheStar.com.my