10 Most Popular Projects in March 2015
E&O's latest executive apartment, The Tamarind, continues to hog the limelight as the most popular project of the month. An increased of 20% in page views compared to the previous month. However, it is likely to trend downward going forward as the remaining units are slowly being snatched up by home buyers and investors.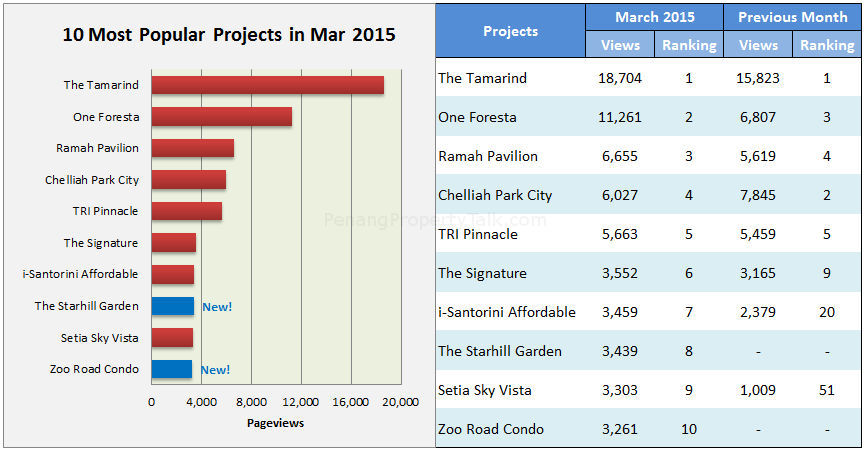 Half of the top ten list are dominated by affordable housing projects with One Foresta being the most popular one. This project is gaining a lot of traction lately because of their active marketing activities and the balloting of unit has also started. The announcement of the new Shih Chung primary school which is located just right next to One Foresta has also attracted further interest in this project.
To know more about the current and upcoming affordable housing projects and location, below is the page that you should not missed out:
Affordable Housing Projects & Location
Just in case you are interested to know, the affordable housing project page has been viewed more than 43,000 times last month.
Despite various real estate professional and government bodies has reported slow down in property market, Penang's property buying sentiments continue showing a persistent uptrend since January this year. Below are the total monthly visits recorded at PenangPropertyTalk.com for the past 3 months.
* Projects are ranked based on the actual number of clicks & views in Google Analytic web traffic report for PenangPropertyTalk.com.
>> PREVIOUS MONTH: 10 Most Popular Projects in February 2015