Affordable housing to drive property sector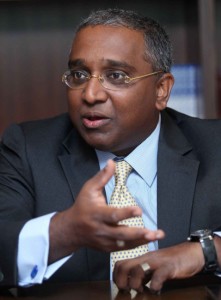 All eyes will be on the affordable housing segment again this year, with residential properties priced around RM500,000, expected to drive the property market due to pent up demand.
Zerin Properties CEO Previndran Singhe (pix) said the residential segment will continue to drive the property market this year, especially products priced below RM500,000 due to pent up demand from first-time home buyers as well as well-priced high-end residential properties in well-connected locations by reputable developers, particularly in Greater KL, Penang and Iskandar Malaysia.
"This is backed by the fact that about 40% of the country's population are between the ages of 25 and 54, which is considered the house-buying age," he told SunBiz in an interview.
Based on a study by the Real Estate and Housing Developers' Association Malaysia (Rehda), residential property prices are expected to increase by 3% after the GST implementation, which Previndran feels is trivial, particularly for high-end properties.
"Buyers and investors who have the cash and good credit scoring should consider investing into areas and developments within close proximity to upcoming Mass Rapid Transit (MRT) and Light Rail Transit (LRT) stations, which will offer good capital appreciation and rental returns," he said.
Areas to watch out for within Greater KL are developments within proximity to MRT stations, LRT 3 stations and new highways namely Damansara-Shah Alam Expressway (DASH), Sungai Besi-Ulu Kelang Elevated Expressway (SUKE), the proposed Kinrara-Damansara Expressway (KIDEX) as well as the KL Monorail extension.
"Places to invest in would be Sungai Buloh, Kota Damansara, Taman Tun Dr Ismail, Damansara Heights, Kajang, Cheras, Old Klang Road (near KL Monorail extension) and Bandar Utama, Shah Alam and Klang (proximity to LRT 3 stations)," he said.
He also highlighted areas such as Bangsar, Medan Damansara and Taman Seputeh for landed and well-priced condominiums; KLCC and Mont' Kiara for well-priced condominiums in well-managed developments; as well as Malacca, Penang, Medini Iskandar and Kota Kinabalu for long-term investment.
Meanwhile, the industrial segment is expected to register positive growth this year due to the growing demand in recent years for high quality industrial parks while commercial office space is expected to remain stable despite sliding crude oil prices.
"New green buildings in prime locations will perform well with strong demand from multinational companies," said Previndran.
Raine & Horne International executive director Lim Lian Hong said 2015 will be a challenging year for property developers due to the lack of purchasers, who will be affected by difficulties in getting loans as a result of the credit limits set by the banks.
In terms of the residential segment, which is zero-rated, Lim said the focus will be on affordable housing especially those priced about RM500,000 while industrial properties will continue to perform well, driven by the government's effort in encouraging investors into the country for manufacturing and processing of materials.
"The commercial segment will be mixed while the retail segment will see a number of new shopping centres coming up around Petaling Jaya and other parts of Kuala Lumpur, which will contribute to a huge supply. This will drive rental rates down, while some older shopping centres will be hit," he told SunBiz.
Meanwhile, the supply in office space is increasing and there will be challenges in terms of rental rates and occupancy rates.
"As for hotels, the four- and five-star hotels will continue to do well as they have the lowest room rates in this region, whilst the business class and three-star hotels are being challenged by the new class of budget hotels located in shoplots and smaller premises," he added.
Looking back at 2014, Lim said the property market had cooled down quite effectively due to measures taken in Budget 2013 and initiatives taken by the central bank.
"Sales are down in both the primary and secondary markets although some developers still recorded good sales like Kajang Hill and Semenyih. Memorable events in 2014 include the land deals along Jalan Ampang, which were done at RM3,000 per square foot even though the market seemed to have cooled down," he said.
Over in Johor, KGV-Lambert Smith Hampton (Johor) Sdn Bhd executive director Samuel Tan (pix) said 2015 will be even more challenging with the macro-economy expected to slowdown due to the reduced income from the country's main exports, petrol and commodities.
"The completion and soon-to-be completed supply of new properties especially service apartments will be a challenge. There will be a need to occupy the units whether for rental, owner-occupation or as a second home. The toll hikes and implementation of Vehicle Entry Permit (VEP) at both ends of the Causeway cannot come at a worse time than this. It is totally illogical to increase the cost of travelling by such a huge percentage when both countries are symbiotically dependent on one another," he told SunBiz.
Tan said the toll hikes and VEP will be a deterrent for foreigners especially Singaporeans, to buy properties in Iskandar Malaysia (IM) and to travel daily. According to him, a high proportion of those travelling daily to Singapore work in Singapore and form a sizeable group of buyers who earn the stronger Singapore dollar.
"With this increased cost, many may opt not to invest and it will be a backlash on our market. The stronger Singapore dollar should be an opportunity for Singaporeans and Malaysians working in Singapore to buy properties here. The authorities should look into ways to encourage such investment, more so as the economy is showing signs of slowdown," he added.
Meanwhile, the other immediate game-changer is the proposed Rapid Transit System to be connected from Thomas Line near Republic Polytechnic to Johor Baru (reportedly at Bukit Chagar).
"Once the first pile is put into the Straits, there will be another of frenzy in the market. The current congestion at both Woodlands and Second Link are major reasons why many do not want to be in IM."
While many are preparing to buy cheap this year, Tan noted that the stratified residential segment will see a challenge with over 100,000 units already approved, of which 10,000 are already under construction.
"Landed residential will face lesser problems due to the lack of supply. However, the present high price tags in a slowdown economy does not augur well for these properties as many may want to consolidate their funds instead of committing to such big tickets. The secondary market in the residential sub-sector is expect to perform better.
"Shop offices will continue to be sought after albeit at a slower rate as prices are over RM1.3 million onwards. If investors can get a yield of some 5% to 6% per annum, I believe it is worthy of investment. Industrial properties will be attractive in SiLC, Tanjung Pelepas and Kulai areas due to better accessibility and concepts," he said.
Source: TheSunDaily