Three major reasons why landed is better than condo. What do you think?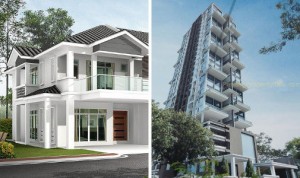 by Charles Tan
Today, I had lunch with a very capable young friend. She is many years younger than me but she already owns her own business in partnership with a very prominent personality here in Malaysia. A rich one. Over lunch, we were talking about her first property and I asked why is she not thinking of buying a second one. She said, she prefers landed but these days, landed are either too expensive or too far away. She does not want to travel a long time every time just to reach her destination on time. Then, I asked her why she prefers landed over her current apartment. As usual, the three major reasons were presented.
1) Bigger
2) More Land space
3) Standing on actual land.
Bigger. This was true long time ago when landed properties were the norm and high rises were all flats or apartments. Then, many years ago, the condos started. Most of the time, it was those 800 – 1,000 sf ones. These units are really smaller than the typical terrace houses then. Today, there are many more bigger units, from 1,500sf all the way to 2,500 sf. A typical 20 x 70 double storey terrace house would have a built up of just 1,400sf – 1,500sf which meant that just thinking about size alone, its no longer true that landed is bigger. Condos are actually getting bigger, more of them. Landed are getting smaller, most of them or they now give you more storeys, townhouses or superlinks etc.
More land space. I am not sure how you want to compare the tiny plot of 'grass covered land' within your 20 x 70 terrace house with a huge park within the modern condominiums of today. Some even have a rooftop garden, complete with an infinity swimming pool. Some allows you to do BBQ on the rooftop while you chit-chat with a huge group of friends. Yes, it is true, you do not swim everyday and you also do not ask your friends to drop by everyday. If you insist that hey, the condo's BIG plot of land is SHARED while I own my own piece of land, then yeah sure. You win. Do remember, nothing stops me from using the whole big plot of land within the condo. I am not sure if you can use your neighbour's plot of land.
Standing on actual land. Actually, this is true. If you own a landed property, you stand on the ground itself. Meanwhile, if you are in a condo, sometimes even the ground floor may not be standing on the ground because the car parks might be below. Tell me however, is standing on the actual ground really more important that having a place to stand? As usual, if your answer is that hey, I am prepared to pay a huge premium so that I can stand on my own piece of land and not standing on another person's rooftop, ok you win.
The purpose of this article is not to tell you to buy condo. It is to tell you that if you like landed, just say you like landed. Don't give the three reasons above. You can even say I buy landed to show people that I am richer. That's a pretty good reason too. Or you can say, my parents love only landed property. In fact there are lots of other reasons which you can attribute to just the landed ones and I would agree. As for capital appreciation reason, that's another story altogether. Happy Investing, whether it's condo or landed.
>> This opinion article comes courtesy of Charles, the founder of kopiandproperty.com. He is popular for sharing his thought on property investment mostly based on his own 11 years experience as well as from all the readings and conversations with property gurus in the industry. (Source)