The Light Collection I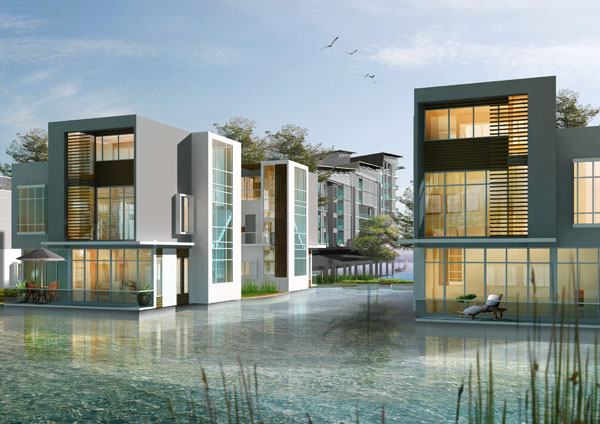 It begins with the Penang essence which has drawn and charmed generations of visitors. It is distilled from the colourful convergence of diverse cultures on Penang's waterfront – an eclectic mix of Malay, Chinese, Indian, Nonya Baba, Jawa-Peranakan and European traditions, architecture, food and festivals. The Penang essence is not to be found anywhere in the world. In THE LIGHT, the Penang essence prevails, inspiring fresh interpretations of the island's endearing appeal. Today, Penang's waterfront is a favourite haunt for families and friends, morning, noon and night. Cool, evening strolls, visits to eating stalls here, or simply being there to watch ships and yachts go by are a national pastime. The magnetic allure of Penang's waterfront and the lure of water will be made to beckon even more strongly by THE LIGHT.
The Light Collection I, the first project among The Light Collection series offering low rise condominium and water villas. The Light Collection I comprises 4 low rise condominium blocks with a total of 152 condominiums and 24 water villas. Each condominium has a built-up area ranging from 1,367 to 1,582 sq.ft. and the 4-storey water villas has a built-up area of 3,132 sq.ft.
The Light Collection I facilities include swimming pool, wading pool, basketball court, bicycle track, squash court at Collection III, common marina at Collection II, gymnasium, jogging track, green park, tennis court, sky lounge.
Property Project : The Light Collection 1 @ The Light Waterfront
Location : Gelugor
Property Type : Luxury Condominium, Water Villas
Land Tenure : Freehold
No. of Blocks : 4 blocks of condominium
No. of Storey : 8
Units per Floor : 6
Built-up Area : 1,367 – 1,582 sq.ft. (Condominium), 3,132 sq.ft. (Water Villas)
Total Units : 152 Condominiums, 24 Water Villas
Developer : IJM Land
Website : www.thelightwaterfront.com