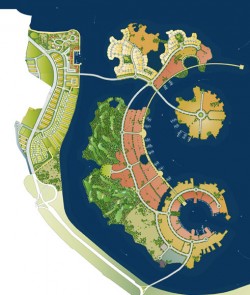 GEORGE TOWN: Eastern & Oriental Bhd plans to develop residential and commercial projects worth RM25bil over the next 20 years for Seri Tanjung Pinang's (STP) second phase. And this will generate some 15,000 jobs.
Group managing director Datuk Terry Tham said the ratio of commercial to residential properties for the entire scheme would be one to two.
"There would be some 28.45 million sq ft of mixed-use commercial area allotted for retail, office, serviced apartments and a tourism hub with seafront promenade, museum and an international marina for the entire 307ha reclamation scheme," he said after a public dialogue on STP's second phase's detailed environmental impact assessment report at the Straits Quay in Tanjong Tokong here yesterday.
Tham added that E&O would ensure that some 30% of the residential properties in STP were priced from RM42,500 onwards.
"Some 12,000 residential properties will be developed for the second phase, of which 32% will be low-rise properties of four-storeys, 45% medium-rise, and 23% 10-storey high buildings," he said.
On open spaces, Tham said there would be 26.7ha of land for green development projects and 8.9ha of landscaped buffer in between the second phase and 16.5ha of open space in Gurney Drive.
"The illustrative master plan will be submitted to the local authorities following the approval of the detailed EIA report's approval from the Department of Environment at Federal-level."
Tham said reclamation would be carried out in two stages. "The first involves reclaiming 102ha of land which would take about 30 months to complete and 10 years to develop. The second stage involves reclaiming the remaining 205ha and this would take four years to complete and 14 years to develop," he added.
Tham said the group would cede to the state government 24.2ha of land in the second phase for the undersea tunnel and other supporting infrastructure projects.
"We will also reclaim for the state government 53ha of land in Gurney Drive of which 20.2ha will be used for open spaces."
Source: StarProperty.my