October 2nd, 2017
Comments off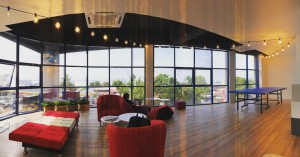 Co-working is a global movement to create innovative, collaborative and community driven workspaces that move beyond traditional work environments. Stop working alone – work for yourself, not by yourself.
In recent years, co-working space has been emerging as a new trend in Asia. This is supported by the rapid increase of remote workers and changing working styles, as new generations seek more flexibility in their job.
Co-working spaces are also sprouting up in Malaysia and a new player has just joined the fray in Penang. Located at the heart of Georgetown, disruptive co-working space Scoopoint offers amazing working environment and facilities. It is also a platform to live up to one's passion, network, collaborate and inspire one another.
Penang is such a wonderful place to live, work and play. Unfortunately, many Penangites have left the beautiful island because of limited resources for career development, business advancement and chances of starting a business. Scoopoint aspires to change this perception to help Penang retain its talents.
Scoopoint founder Mei Tan said, "We connect entrepreneurs from different backgrounds and industries. We create a platform for them to collaborate, create opportunities and grow together as a strong and positive community here in Penang.
"We also provide creative and consultation services, such as branding, advertising design, social media marketing, estate planning and funding options to bring their business to the next level."
"We have an in-house team with almost eight years of experience in the branding and advertising fields.We also provide consultation servicesby working closely with our panel of advisors, such as BrandYourself Agency, Asia Green Group, StayHi Social Media Marketing and InSync Group," said Mei.
ABOUT CO-WORKING SPACE

Co-working space provides flexible and cost-saving renting of desks, small office rooms and meeting rooms. It is a solution for those in need of small working space with basic facilities.

In the past, many SMEs, start-ups, freelancers, self-employers and remote workers only had the options of working at home, in cafés or traditional office environment This was because renting and setting up a big office space is a costly long-term commitment.

WHO IS IT FOR?

Small businesses, freelancers, remote workers, budding entrepreneurs, start-ups and those who are looking to transition out of their isolated work environments – home offices, traditional office and cafés –into a creative workspace that will push their productivity and creativity to the next level.

HOW DOES IT WORK?

People and businesses of all kinds come together in one facility to share resources, create a community and reduce operating costs. They can opt to use a co-working space by the day or monthly, or anywhere in between. It is flexible.
Office facilities in Scoopoint include high speed internet supported by TIME, working desks and office rooms, cabinets, lockers, admin and mail services, electrical plug points, phone and conference booth, meeting rooms and training rooms. It also provides Virtual Office service packages.
Scoopoint believes in work life balance and positive working environment, so other facilities – a cosy sofa area overlooking the sea view, table tennis table, nap room, standing working station and a pantry area – are included. The pantry has all the necessities, such as microwave, toaster, coffee machine and refrigerator.
Mei said that Scoopoint also offers event and meeting room rental with full set of equipment for training, presentation, product launch, workshop, meeting and others.
Within Three months of operations, Scoopoint has already organised 24 events. Examples of the events are Big Step into UX design skill-share by Can Yelok, Women Entrepreneur Night by Krista Goon, Penang Entrepreneurs Networking Night, Intellectual Property Talk by Gordian, BrandYourself Showcase by Steve Wee, Product Design 101 from Expedio.
If you need more info and acquire on the plans can check out www.scoopoint.com or call us at 016-7290091 or 04-2621389.
[Sponsored Ad]