CM hopes new Federal Government could help to realise several components under PTMP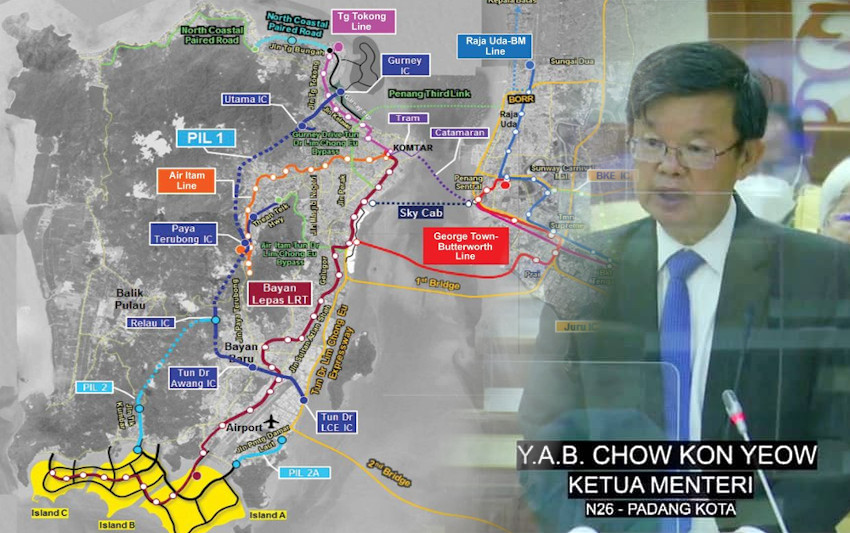 Chief Minister Chow Kon Yeow has expressed hopes that the new Federal Government could help Penang to establish the George Town – Butterworth Rail Line to reduce the number of vehicles on the Penang Bridge every day.
Chow, who is also in charge of the Land Development & Economic and Communications portfolios, said the George Town – Butterworth Rail Line is a new component under the Penang Transport Master Plan (PTMP).
"The state government sincerely hopes that the new Federal Government will be able to help and facilitate the implementation of this project," Chow (PH-Padang Kota) said during his winding-up speech at the State Legislative Assembly yesterday.
He said he also hoped Putrajaya would help Penang implement several other components under the PTMP, such as Pan Island Link 1 (PIL1) and Bayan Lepas Light Rail Transit (BLLRT).
Chow added that the Federal Government would usually finance public transport projects such as LRT and the construction of new highway networks such as PIL1.
Thus far, he said Penang has submitted funding allocation requests to the Federal Government three times in a row under the 12th Malaysia Plan.
"The state government will follow up with the new Federal Government for these critical infrastructure projects to ensure that these projects can be implemented immediately.
"The projects have been planned for a long time to overcome traffic congestion that is getting worse.
"The state government believes that highway construction still needs to be implemented even though there are plans to implement LRT because the transition from private vehicles to public transport alone is not able to solve the problem of traffic congestion in Penang.
"Even these changes cannot be expected to be done in a short period.
"Therefore, the implementation of PIL1 is very necessary for the future to divert and reduce traffic congestion, especially on the Tun Dr Lim Chong Eu Expressway and Jalan Masjid Negeri," Chow explained.
Source: Buletin Mutiara