Acme inks JV to develop 178 acres of land in Balik Pulau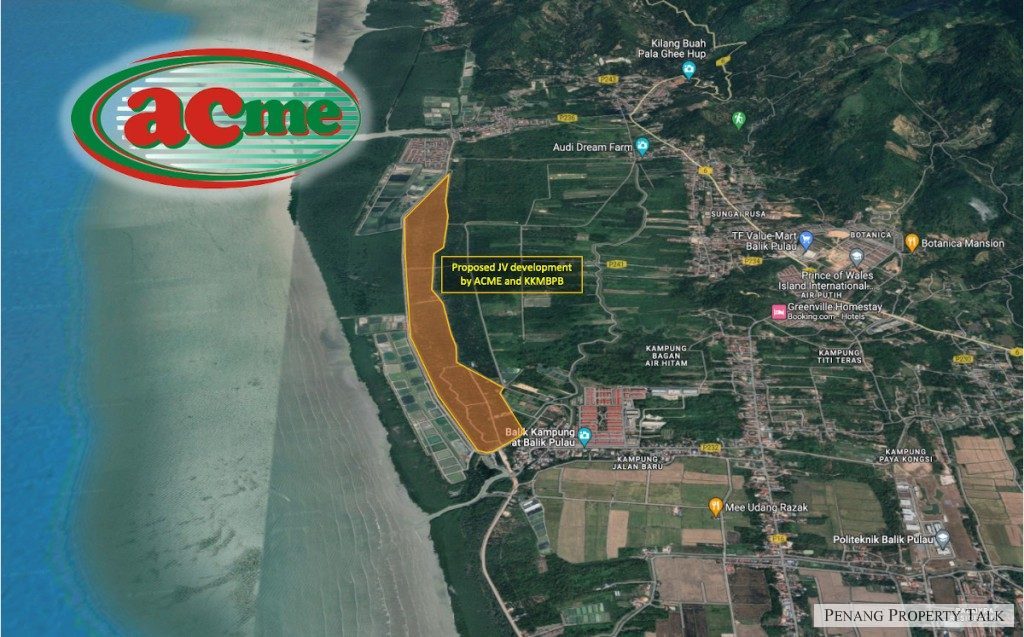 Acme Holdings Bhd is teaming up with Koperasi Kampung Melayu Balik Pulau Bhd (KKMBPB) to jointly develop seven parcels of land measuring about 178.34 acres in Penang into a multi-phased integrated development.
In a Bursa Malaysia filing, Acme said its wholly owned subsidiary Ayana Bayu Sdn Bhd (ABSB) had entered into a joint venture agreement (JVA) with KKMBPB to jointly develop the land with an estimated minimum gross development value (GDV) of RM1.4 billion.
ABSB is the developer of the said land, while KKMBPB is the land owner. Under the JVA, the development will be on a sharing basis of 83:17 between ABSB and KKMBPB, respectively.
"The developer hereby guarantees that the landowner's entitlement shall be equivalent in value to the minimum sum of RM210 million only. The landowner's entitlement may be higher in the event the GDV of the said development on the said land is higher than projected under the JVA," said Acme.
"Upon handing over vacant possession of the said land to the developer, the developer hereby agrees to compensate the landowner for the loss of income/profit from oil palm cultivation, the sum of RM1 million only yearly to the landowner.
"The amount paid herein shall be treated as part payment of the landowner's entitlement and shall be deducted from the landowner's entitlements and it shall be deemed that the developer has fulfilled all its obligations under the terms and conditions of the JVA," it added.
Upon execution of the JVA, Acme said ABSB also agreed to pay a sum of RM2.5 million to KKMBPB.
"The JVA will enable Acme and its subsidiaries (group) to undertake the said development within the proximity of Penang. The said development could contribute positively to the group's financial performance in the ordinary course of business going forward," said Acme.
Shares of Acme settled unchanged at 20.5 sen, with a market capitalisation of RM75 million.
Source: TheEdgeMarkets.com