US-based Indium Corp opens new manufacturing facility in Batu Kawan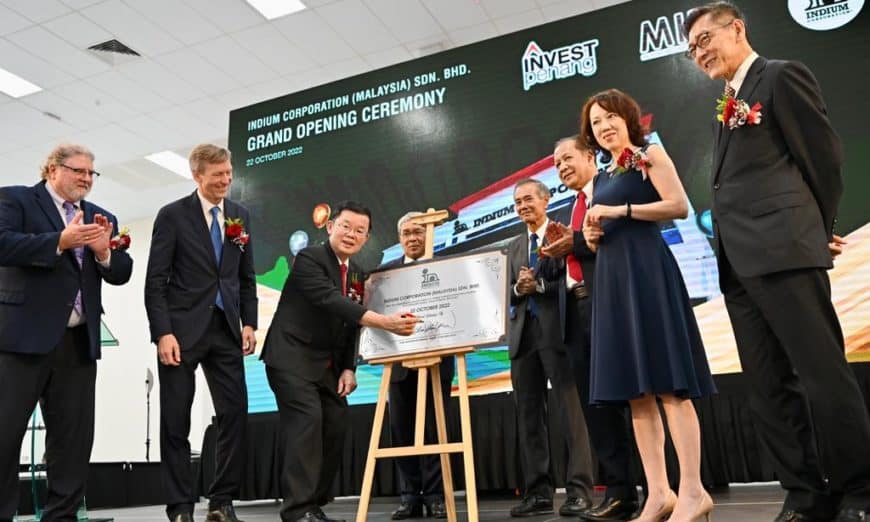 Indium Corporation, a United States-based global materials supplier to the electronics assembly and semiconductor packaging industries, has officially opened its much-anticipated, high-technology manufacturing facility in Batu Kawan Industrial Park (BKIP) today.
The 37,500sq ft facility is located at Persiaran Cassia Selatan 3 in BKIP.
Indium Corporation president and chief operating officer Ross Berntson said the corporation has invested a total of RM250 million to set up the manufacturing facility.
"In addition to the new manufacturing facility, Penang also houses our Malaysia Tech Hub, a regional centre for the development of electronics assembly expertise and customer service, as well as a logistics and manufacturing support centre which is located on the island.
"Indium Corporation is proud to continue its more than 40-year history of doing business in Malaysia with the grand opening of our new manufacturing facility in Penang.
"This new facility will enable us to further support our customers in automotive, semiconductor, power electronics, e-mobility, industrial and computing and other markets," Berntson said in his speech before Chief Minister Chow Kon Yeow officiated the grand opening ceremony of the new manufacturing facility today.
Also present were state Entrepreneurial Development, Trade and Industry Committee chairman Datuk Abdul Halim Hussain, InvestPenang chief executive officer Datuk Loo Lee Lian and Malaysian Investment Development Authority (Mida) chief executive officer Datuk Arham Abdul Rahman.
According to Berntson, the new manufacturing facility will also focus on its advanced solder paste, high-performance thermal materials, and innovative engineered solder products.
"This new facility has begun its manufacturing activities and will continue to expand the production capacity to better serve the company's customers in Malaysia and the surrounding region, including Thailand and Vietnam," he added.
Chow said Penang was excited and proud to welcome Indium's presence here.
"Penang is pleased to be the choice location for Indium's new manufacturing facility. The company's investment decision serves as an acknowledgement of the skilled talent, well-developed infrastructure and resilient environment that the state holds.
"Being widely regarded as one of the major players in the global semiconductor industry, Penang's robust electrical and electronics (E&E) ecosystem is believed to have paved the way for sustainable industry development, offering a competent platform for the players along the supply chain to participate and thrive," he said.
Chow added that Penang is the economic powerhouse of the country.
"The state's commendable performances in investment inflows and external trade have greatly attested to our resilient industrial ecosystem, which has always been the key factor that attracts investors' interests.
"Penang also has been very successful in its transformation journey, which began in 1972.
"The five decades of industrial excellence have laid the groundwork for Penang to unlock its limitless potential.
"And holding on to the tagline for Penang's 50th anniversary of industrialisation, '50 Years of Excellence and Beyond', I am looking forward to witnessing our next leap.
"Rest assured that the state government via InvestPenang and other relevant state machinery, is committed to providing unwavering support to the investors.
"I look forward to a long-lasting business relationship with Indium, and once again, offer my sincere congratulations on their new facility," said Chow.
Source: Buletin Mutiara