Monopole transmission tower next to the Penang Bridge to be completed by 2024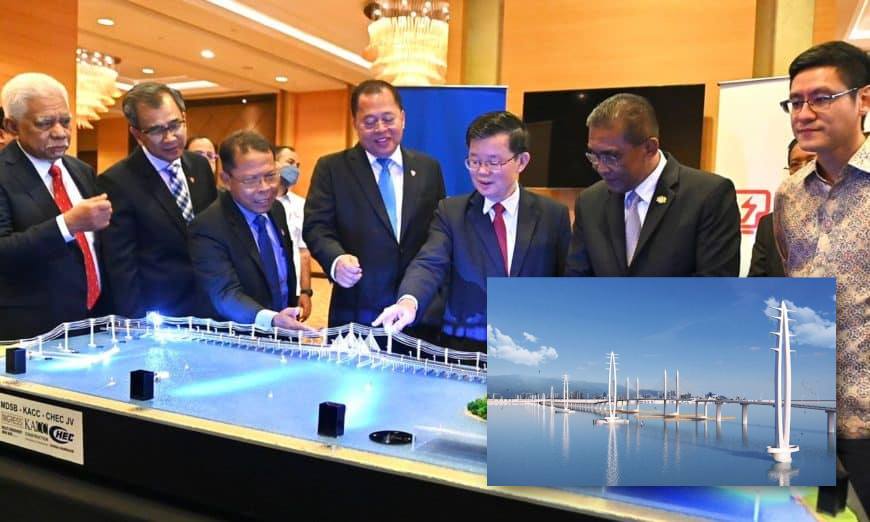 Penang will soon have an 8.5km monopole transmission tower next to the Penang Bridge, connecting the Perai Power Station (SJ) Main Inlet Substation (PMU) to the Light PMU in Penang to strengthen the electric supply here.
Tenaga Nasional Berhad, in a statement released recently, said the project would bring a direct connection of electricity supply from the national grid to Penang through overhead line transmission from the mainland to maintain the island's electricity supply.
The RM500 million project, which is under the jurisdiction of TNB, will be able to generate 2,000 megawatts (MW) of electric supply to the state upon completion.
It is expected to be completed in 2024.
This project is expected to see the establishment of 31 monopoles, with six of them to be in betel nut design.
Chief Minister Chow Kon Yeow said this project would play a crucial role in the state's development in various areas in the future, as well as existing ones.
"We can plan and strategise ideas for big projects here in Penang, but we certainly can't carry them out without sufficient power supply to support the operations.
"Hence, this project will be a huge boost considering the rapid industrial growth we are currently experiencing here, as well as benefiting the people in their daily lives.
"I was also made to understand that this project will be decorated with ecstatic lights, which will become an iconic landmark here in Penang.
"The state conveys its heartfelt appreciation to TNB and the Ministry of Energy and Natural Resources for this initiative," Chow said in his speech before officiating the launch of the project at The Light Hotel in Seberang Jaya on the mainland yesterday.
Meanwhile, Minister of Energy and Natural Resources Datuk Seri Takiyuddin Hassan said the launch of this project was a timely one considering the only existing supply system on the island, SJ Gelugor, is expected to end its service contract in 2024.
Chow then said this project would also be a major boost to support the Penang2030 vision for 'A Family-Focused Green and Smart State that Inspires the Nation'.
In a related development, it was recently reported that physical works, which include the construction of the tower foundation, installation of the tower structure, as well as conductor spanning works, are expected to begin by the end of 2022.
Among others present during the event were state Transport and Infrastructure Committee chairman Zairil Khir Johari and TNB chief executive officer Datuk Baharin Din.
Source: Buletin Mutiara