Handover ceremony of Iconic Point took place on Tuesday at Simpang Ampat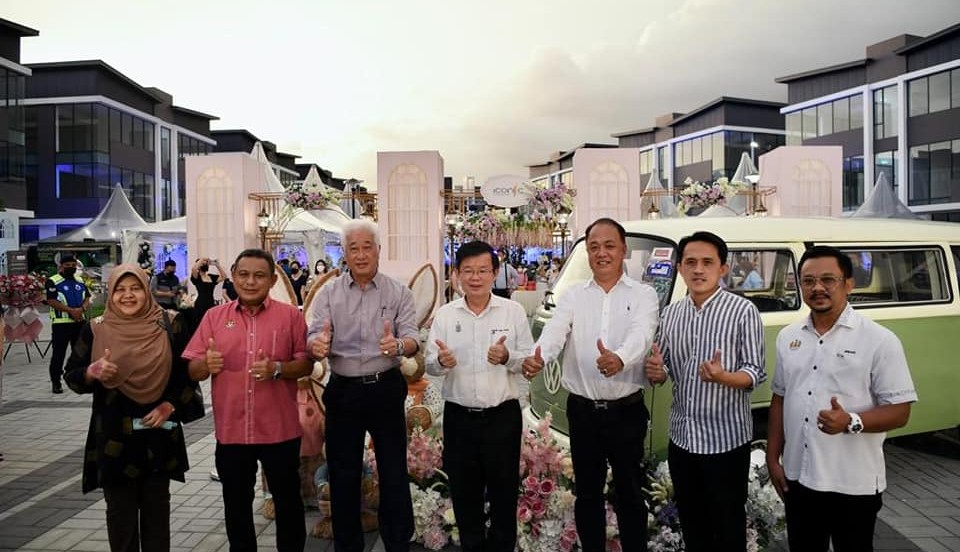 Iconic Point at Simpang Ampat has been completed and the handover ceremony of the unit shop offices to the buyers was held on Tuesday evening at the site.
The Iconic Point is developed by Iconic Worldwide Berhad (IWB) and is the first commercial project in Simpang Ampat which offers semi-detached and detached shop offices with individual shared lifts.
IWB managing director Datuk Seri Tan Kean Tet said the RM127.81 million commercial hub is poised to be the 'go-to lifestyle and entertainment hub' in Simpang Ampat.
"Iconic Point spans across 8.7 acres of land and features 49 freehold shop offices, with a built-up of 4,350sq ft for three-storey semi-detached shop offices and a 5,556sq ft built-up detached shop office.
"We are pleased to create a new lifestyle hub in Simpang Ampat. We have also managed to receive positive responses from international branches in Iconic Point such as The Coffee Bean & Tea Leaf, McDonald's, Starbucks, Family Mart and CU Mart. Not forgetting our other tenants such as ZUS Coffee, Secret Recipe and Watsons.
"With multiple choices of renowned food and beverages (F&B) brands and other amenities, this is the kind of value that we want to inject in Simpang Ampat as there has not been a commercial development such as Iconic Point in the area.
"The development also features a four-storey boutique hotel at the end of the Iconic Point belt where one can opt for a comfortable respite while still be within the vicinity of various amenities," Tan said in his speech before Chief Minister Chow Kon Yeow officiated the handover ceremony at Iconic Point today.
Also present were state Welfare and Environment Committee chairman Phee Boon Poh, Seberang Perai City Council (MBSP) mayor Datuk Azhar Arshad and Bukit Tambun assemblyman Goh Choon Aik.
According to Tan, since the relaxation of Covid-19 standard operating procedures (SOPs) by the Federal Government, the market has seen a noticeable surge in consumer spending.
"Malaysians are going out more often and opting for dine-ins."
He added that creating such a commercial hub would be the right fit for the growing demand for contemporary lifestyle spaces in the area.
"It is always our aspiration to be the first mover in bringing a new lifestyle experience to Simpang Ampat.
"I am optimistic that Iconic Point will become a significant landmark and be one of the key drivers in bringing vibrancy and eventually, growth of Simpang Ampat's property landscape," he said.
Chow extended his appreciation to IWB for choosing Penang as the preferred destination for the company's investments.
"I was told that Iconic Point received an overwhelming response, with 100% of its units fully taken up in just two days during its soft launch in 2019.
"Such response to Iconic Point demonstrates that despite recent market issues, Penang has maintained a strong interest in properties among owner-occupants and investors.
"The attraction of Penang's property market is attributed to the state's resilient and growing economy, as well as the fact that there is a steady supply of attractively-priced properties in strategic locations, such as Iconic Point.
"Thus, I hope to see Iconic Point emulate Icon City's (another project by IWB in Bukit Mertajam) success in becoming a productive commercial centre, as the Penang government continues to work with the private sector to further develop Seberang Perai.
"After all, as I have said many times, the future of Penang is in Seberang Perai.
"Seberang Perai has a lot of potential in terms of economy, agriculture, social development and many others," he said.
Source: Buletin Mutiara