Winning their dream homes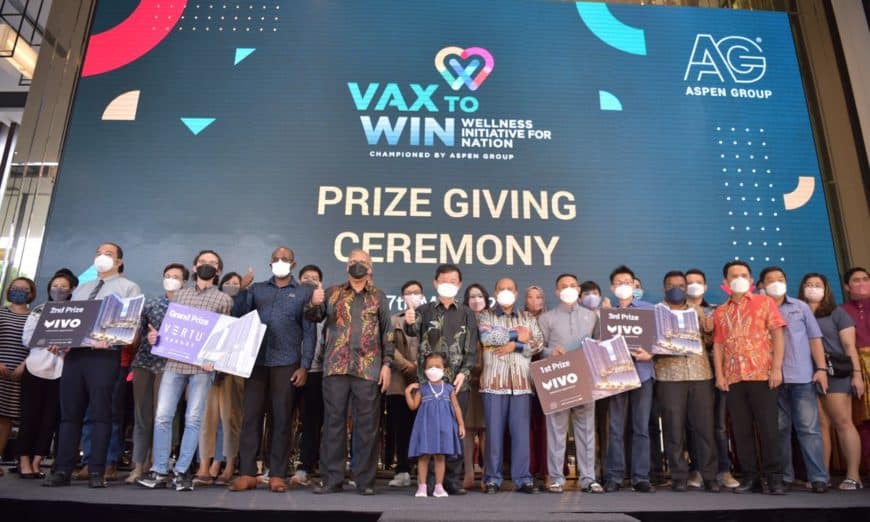 With just three simple steps, four individuals walked away with their dream homes.
They took part in the 'Vax to Win Campaign' last year, initiated by Aspen Group to promote Covid-19 vaccination among Malaysians.
It required the participants to upload their digital vaccination certificate, answer a few simple questions and create a catchy slogan based on the theme 'Emerge Stronger for the Nation' in no more than 20 words online.
The campaign, which started in June last year and ended on March 31 this year, saw the participation of over 6,000 people nationwide.
Twenty-eight individuals were shortlisted as winners. The grand prize winner walked away with a unit of Aspen's very own Batu Kawan Resort Home, called the Vertu Resort.
Meanwhile, the first to third prize winners bagged a unit of the Vivo Executive Apartment in Batu Kawan each.
The fourth to seventh prize winners took home RM15,000 worth of IKEA gift cards; while the remaining 20 consolation prize winners, brought home IKEA gift cards worth between RM5,000 and RM10,000.
The grand prize winner was Hong Siew Hong, while the first, second and third prize winners were Yazid Ismail, Lim Seng Huat and Ong Chee Beng respectively.
Yazid, who is a policeman from Seberang Perai, was glad to have won a Vivo Executive Apartment unit.
"I am happy to win this property but I do not have any plan as to when will I be moving into this unit yet," he said.
Hong's son Goh Sau Hong, 30, who was present, was equally delighted that his mother had won the grand prize.
"It was like a dream come true," he said.
Aspen Group executive deputy chairman Datuk Seri Nazir Ariff said the nationwide campaign was launched in conjunction with the country's 64th National Day last year when the Covid-19 vaccination drive was into its second phase and many controversies about the vaccine arose.
"Despite many uncertainties, many Malaysians took the courageous step of being inoculated to emerge stronger from the Covid-19 pandemic.
"That is the spirit with which we wanted Malaysia to forge ahead, with renewed vigour and a positive outlook.
"That was the sole reason why we launched this campaign nationwide. We played our part in accelerating the vaccination process while encouraging Malaysians to get vaccinated. In return, we gave them a deserving chance to be rewarded with these prizes.
"I wish to congratulate all the 28 lucky winners today. You are not only winners but also the representation of our nation's resilience," Nazir said in his speech during the 'Vax to Win Campaign' prize-giving ceremony at Aspen Vision City Sales Gallery in Batu Kawan today.
Meanwhile, Chief Minister Chow Kon Yeow applauded Aspen for spearheading such an initiative, which was vital during the time of many controversies surrounding the issue of vaccination.
"The state government is proud to see Penangites, especially eligible adults who have completed their two doses of vaccine.
"Nonetheless, the state will not let its guard down and will continue to spearhead its vaccination efforts.
"I hope that with initiatives not only from the state government but also from the private sector, Penang will be the first state to complete its vaccination process among its population.
"As for today, I must say, winning such prizes, which include one high-end condominium and three executive apartments, piqued my interest.
"These homes, as well as the gift cards, will undoubtedly mean a lot to the winners, and I am delighted for all of them.
"Having said that, I look forward to more visionary efforts from Aspen Group that will benefit the people," Chow said during his speech.
Source: Buletin Mutiara