Straits City waterfront development masterplan unveiled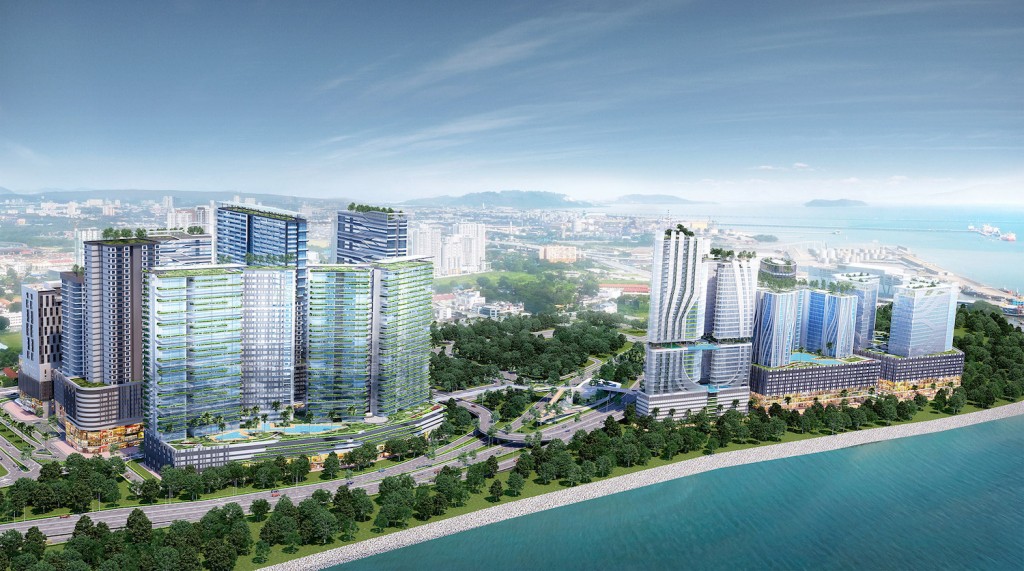 The master plan for the RM3 billion Straits City in Penang, the flagship development by Singapore Exchange-listed The Straits Trading Co Ltd and Malaysia Smelting Corp Bhd (MSC), has been revealed.
Straits City is a 16.19-hectare (ha) mixed-use development in Butterworth's excellent seaside core business district. It has residential, retail, hotel, and commercial components.
According to MSC group chief executive officer (CEO) Datuk Patrick Yong, the company possessed around 5.58 hectares (ha) of land in the development area, which is where its old tin smelting factory is located.
"We are in the process of moving and it takes time especially because of Covid-19, we lost two years…we are doing the cleaning up," he said at a press conference after the topping-out ceremony of the Straits City development yesterday.
Straits Trading holds a 52 per cent stake in MSC, the world's third-largest integrated tin producer.
According to Yong, the smelter is nearing the end of its operation.
Straits City, which aims to be the beacon of smart and sustainable integrated development in Penang, is scheduled to be fully constructed by 2038, said Eric Teng, CEO of Straits Developments Pte Ltd.
"As it stands in our planning, the parameters we are looking at is around RM3 billion in terms of the gross development value (GDV) but we are in the process of reviewing it, especially after the two years of Movement Control Order," he said
The first phase of the development will contain a 23-story four-star hotel with 3,885.48 square metres of net lettable retail space. The GDV for the first phase is projected to be RM250 million.
The hotel will have 343 rooms, a retail platform, and meeting, incentive, conference, and exhibition facilities, according to Teng.
Teng said the phase one properties will open in the third quarter of 2023.
The hotel operator will be finalised by the third quarter of this year, he said.
A few big international hotel operators, he claimed, have been shortlisted.
Teng said that once the first phase of construction is completed, the other phases will commence, comprising retail, business, and residential buildings.
He also said that smart technology, like artificial intelligence-driven security systems and Internet of Things solutions, would be used to improve the quality of life in Straits City.
To limit the use of automobiles and promote walkability, Straits City will include green elements such as pedestrian-link bridges, walkways, and cycling pathways that connect the various parcels within the development.
Straits City is located next to Taman Selat, which was developed in the 1980s by Straits Trading.
It's a timely development, coming on the heels of Malaysia's ambitious ambitions for Butterworth and Seberang Perai, the Greater Butterworth region.
Butterworth is expected to increase to 1.2 million people by 2030, representing 55 per cent of the state's total population, according to the State Government's Vision 2030 plan.
Source: NST Online