Titijaya and DHL to develop semiconductor logistic facility in Batu Maung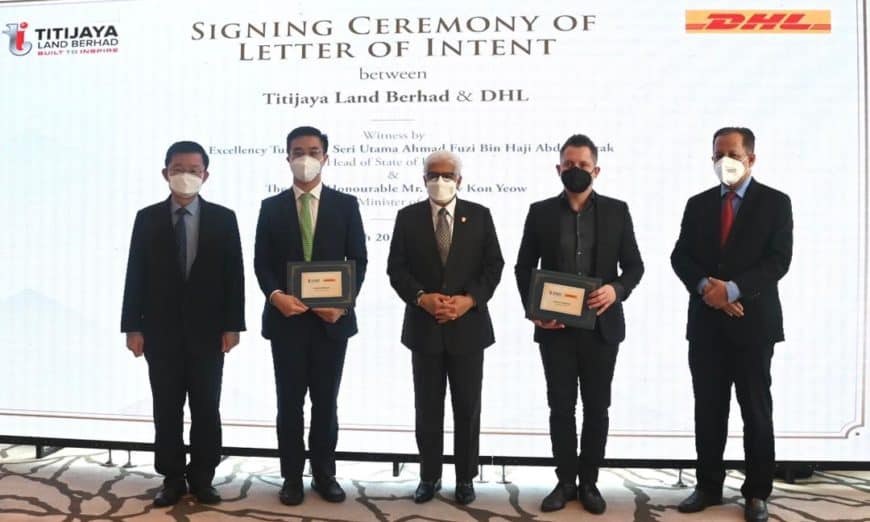 Penang will see the establishment of its first-ever ultra-modern logistics commercial complex in Bayan Lepas next year.
Titijaya Land Berhad and DHL Supply Chain (M) Sdn yesterday signed a Memorandum of Agreement (MoA) to develop the complex at a 20-acre mixed development site in Bayan Lepas.
Chief Minister Chow Kon Yeow, who witnessed the signing ceremony at Ascott Gurney, said he looked forward to the first-of-its-kind facility in the state that would be fully equipped with automated storage and retrieval systems (ASRS) and automated guided vehicles (AGVs) robotics technology.
"Congratulations to both Titijaya Land Berhad and DHL Supply Chain (M) Sdn Bhd for choosing Penang as the place to expand business operations.
"It is a great benefit for us. We welcome this development and hope that other conglomerates can also explore their business opportunities here.
"We will continue to support the business investments by locals as well as multinational and international businesses.
"On top of that, we applaud the collaboration between these two companies, which will provide the semiconductor logistic solution to the Electrical and Electronics (E&E) industry in Bayan Lepas.
"I look forward to the completion of this project in June 2023," Chow said.
Among those present at the ceremony were guest of honour Penang Governor Tun Ahmad Fuzi Abdul Razak, state Trade, Industry and Entrepreneurship Development Committee chairman Datuk Abdul Halim Hussain and state Tourism and Creative Economy Committee chairman Yeoh Soon Hin.
Chow believed that both companies were well-positioned to materialise the project, in which construction works were scheduled to begin in June this year.
"We should strive with our proven track record in making Penang the premier choice for investments," he said.
Titijaya Land Berhad group managing director Lim Poh Yit said the partnership with the world's largest logistics company would open up more opportunities for them on similar projects.
"This marks our first venture into a premium semiconductor facility," he said.
DHL Supply Chain Malaysia managing director Mario Lorenz said the growing demand and growth in the manufacturing and E&E industry and the capability of Titijaya Land Berhad were the main reasons for their collaboration.
"It will open up more growth opportunities for both companies," he said.
Project site:

Source: Buletin Mutaira