Whether it's residential, commercial or industrial, co-create tomorrow and beyond with EcoWorld
Eco World Development Group Berhad or more commonly known as EcoWorld is one of the largest public listed property developers in Malaysia which currently has a total of 20 ongoing projects across numerous locations throughout the country – which include Klang Valley, Iskandar Malaysia and Penang. At EcoWorld, you will be able to find a widely diversified property portfolio ranging from innovative home concepts that are strategically located at the heart of conventional townships to attractive commercial listings.
As a brand with a sizable global presence in the United Kingdom and Australia, engineering ideal ways to further refine the home living experience to the next level has always been EcoWorld's core mission. In order to realise its vision of Creating Tomorrow & Beyond, EcoWorld has always strived to achieve newer heights by constantly pushing boundaries which then creates a positive impact towards the economy, society and environment.
With the aim of catering to the needs of the M40 group, EcoWorld successfully launched a sub-brand – duduk in 2020 which capitalises on existing excellent infrastructure, built environment and comprehensive amenities within existing matured EcoWorld townships.

EcoWorld's latest campaign focuses on its unique co-creation concept. Despite their familiarity with the concept of co-creation prior to this, it was only formalised in 2019 when they began exploring the idea of constructing homes for all generations.
As their vision suggests, EcoWorld is always committed to guide its customers one step at a time to co-create the lifestyle, business and community that fulfill their aspirations in order to create tomorrow and beyond. After all, it's not just about building homes or spaces, it's about completing lifestyles as well as nurturing thriving and sustainable communities.
As the co-creation partner for their customers, EcoWorld is committed towards listening to the needs and demands of their customers. These will then be incorporated into design concepts and green innovations of the homes to create a space where their customers and their loved ones will call home for generations to come. As part of EcoWorld's continuous commitment to their customers, the process does not end after they receive their keys to their home, EcoWorld will continue to offer them a comprehensive range of post purchase services.
EcoWorld prioritises their customers' satisfaction, and hence each product is a one-of-a-kind creation specially inspired by THEM and their life aspirations that is uniquely incorporated into the design of their home.
Together We Create Joyful Living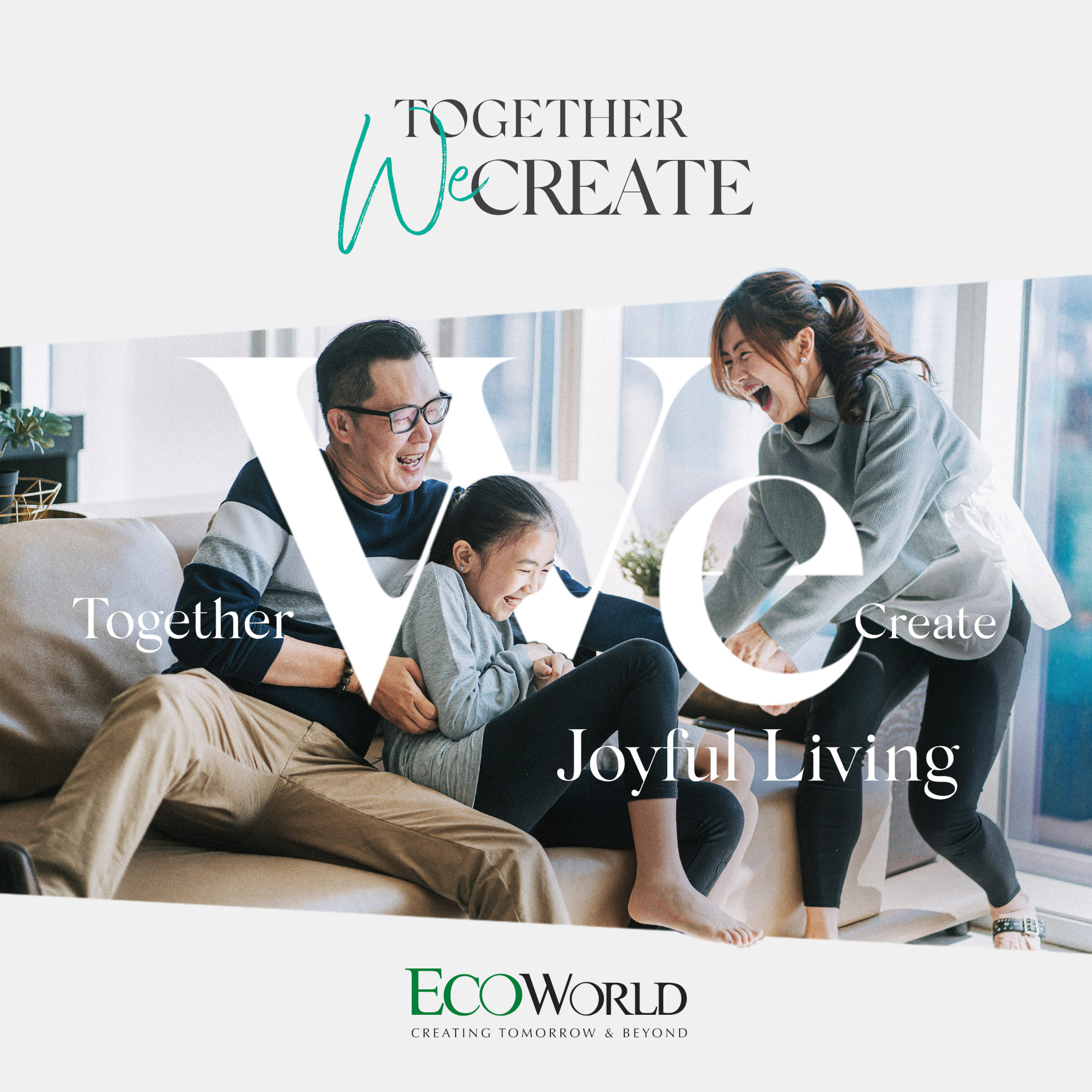 EcoWorld's homes and spaces are specially designed to satisfy the various needs and demands of modern living. Regardless of generation, owning a home in EcoWorld is equivalent to owning a dream home. Apart from your practical needs and aspirations which are flawlessly incorporated into the building of your home, you will also be the co-creator to craft your dream lifestyle.
Based on EcoWorld's in-depth analysis of current property buying trends and consumer insights, they discovered gaps in certain product offerings. For instance, there is a lack of property listings in the market catering to first-time homebuyers and young families as well as families who want to live within close proximity with each other but not under the same roof. Thus, the creation of Co-Home and ErgoHomes to address those concerns.
Applying the revolutionary idea of hybrid landed living concept, Co-home is a hybrid single floor living concept, where you can choose to purchase either an upper floor unit or a ground floor unit. By introducing Co-Home, EcoWorld is able to provide aspiring homebuyers with a landed living lifestyle that is relatively more affordable. Apart from that, this concept also allows different generations to reside in close proximity to each other but still enjoy their privacy.
Taking inspiration from the science of ergonomics, ErgoHomes is the innovative idea that showcases the objective of 'communal sprit meets efficient space planning'. Contrary to the conventional layout of terraced homes, each unit is designed to be a corner unit because of its unique placement and hence, enabling landed property to be equally spacious and affordable simultaneously.
Coupled with attractive pricing, these unique concepts and ideas are more appealing to first-time homebuyers and young families.
Apart from those products mentioned, there is also the Garden Homes which feature an innovative home unit that allows you to enjoy the best of indoor and outdoor living lifestyles. Situated within the Eco Grandeur township, each Garden Home comes with a 5-feet side garden* which can be converted into a mini zen garden or recreational spot. Besides that, there is also the option of a Garden Home at Eco Botanic which boasts a spacious 10-feet lifestyle porch* that offers you stunning views of both the front and back gardens. You can set up your very own indoor WFH space, entertainment area, kids' play area or even an alfresco BBQ and dining spot! What's even better is the 20 to 30-feet wide Backlane Garden* where kids can get to enjoy their leisure time in the outdoors safely in the absence of motor vehicles.
Garden Homes are now available at Eco Grandeur @ Klang Valley and Eco Botanic @ Iskandar Malaysia. Get in touch with Eco Grandeur's Sales Representative or Eco Botanic's Sales Representative for further enquiries.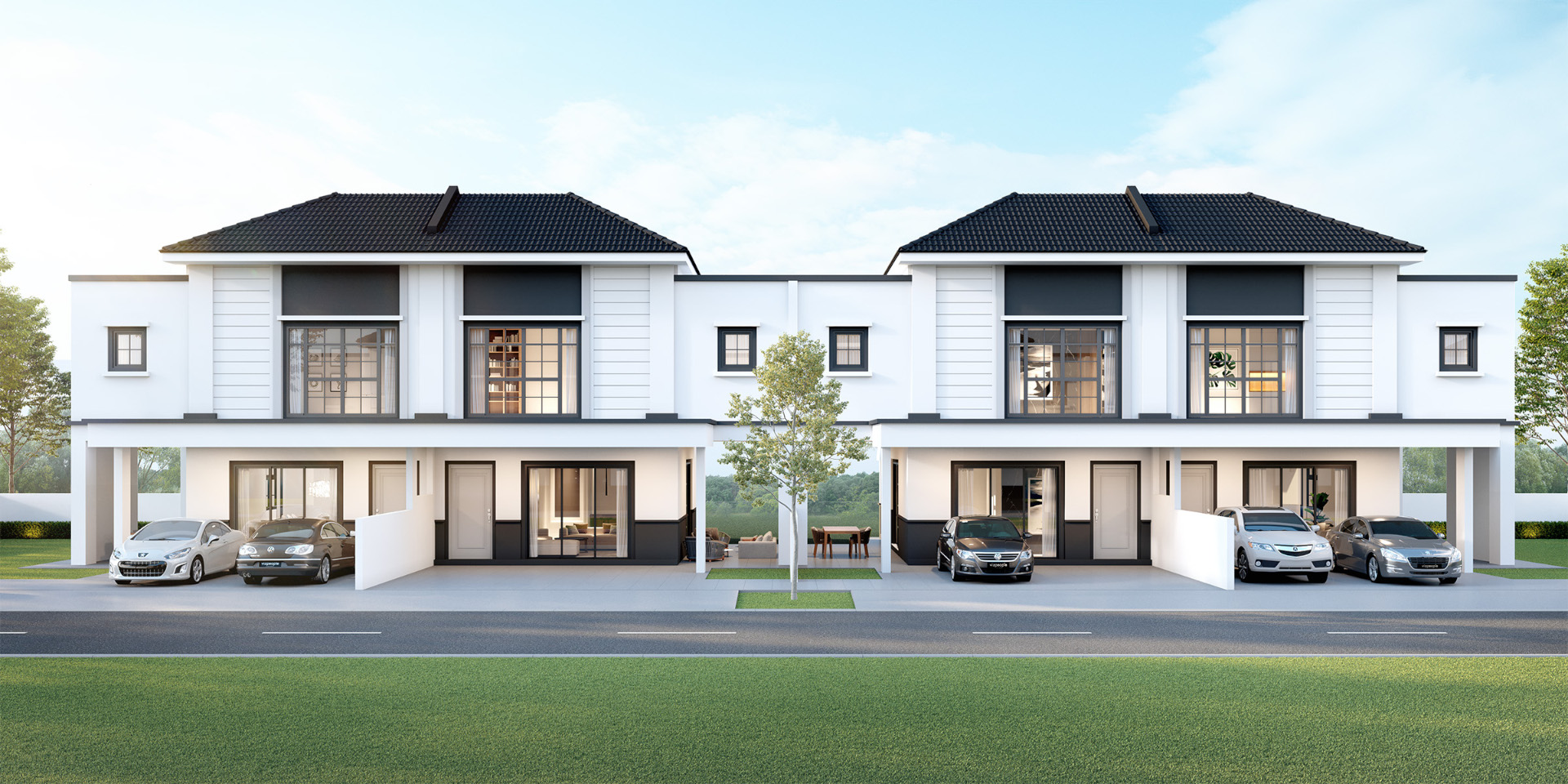 With the objective of being able to utilise more spaces for your family and friends, the Semi-D and Bungalow homes at Eco Horizon are uniquely designed based on a flexible layout that offers you maximised space for living and entertainment. With a private greenery area and a well-landscaped yet spacious backlane garden, you will certainly get to enjoy the ideal indoor and outdoor living lifestyle of your preference. On top of clubhouse facilities that are exclusively for residents' use, the gated residential precincts at Eco Horizon are closely monitored with 360-degree CCTVs and hence will ensure the safety and security of not only you but your loved ones as well. Get in touch with Eco Horizon's Sales Representative to get further details on these Semi-D and Bungalow homes.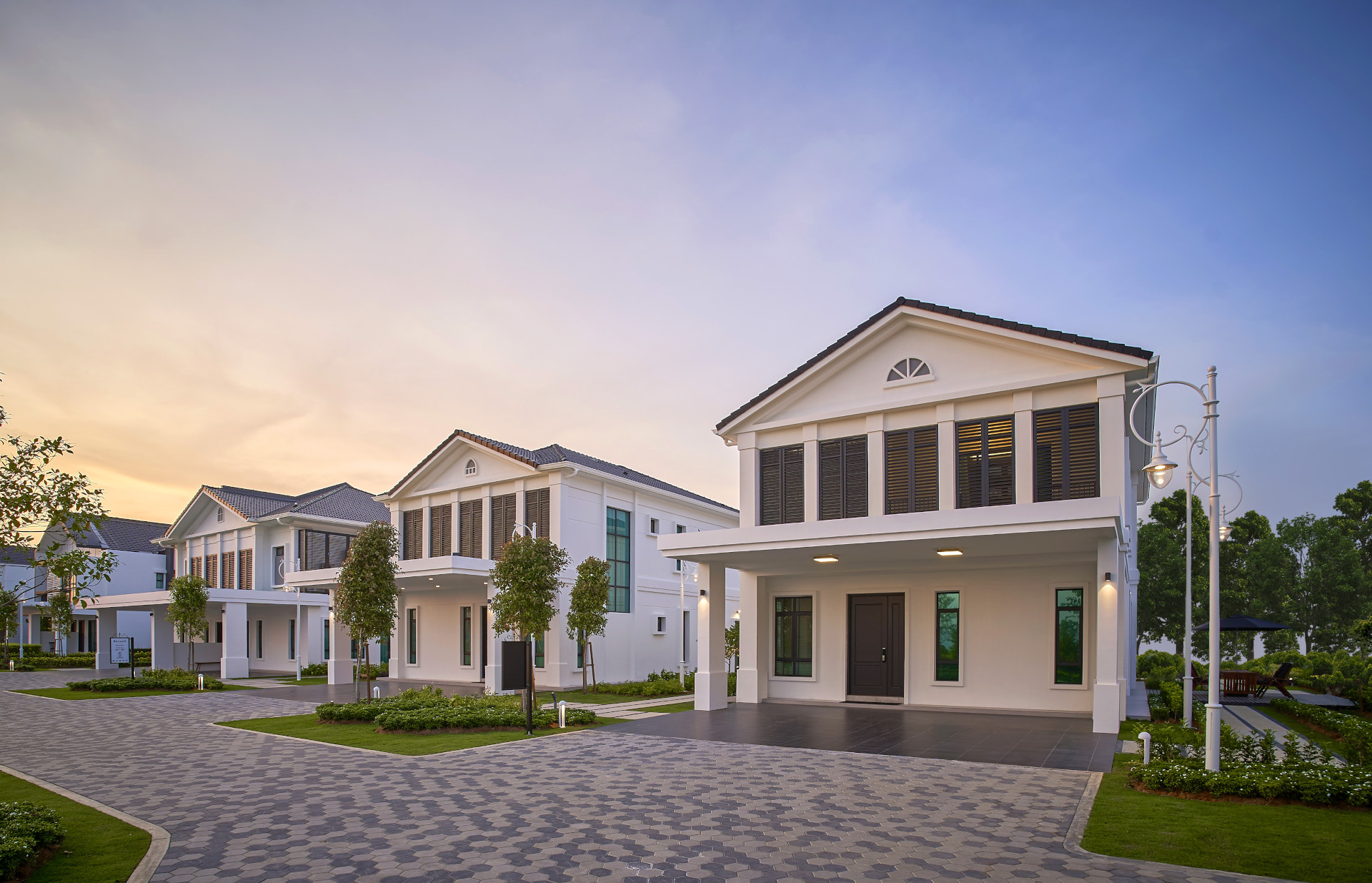 Together We Create Thriving Communities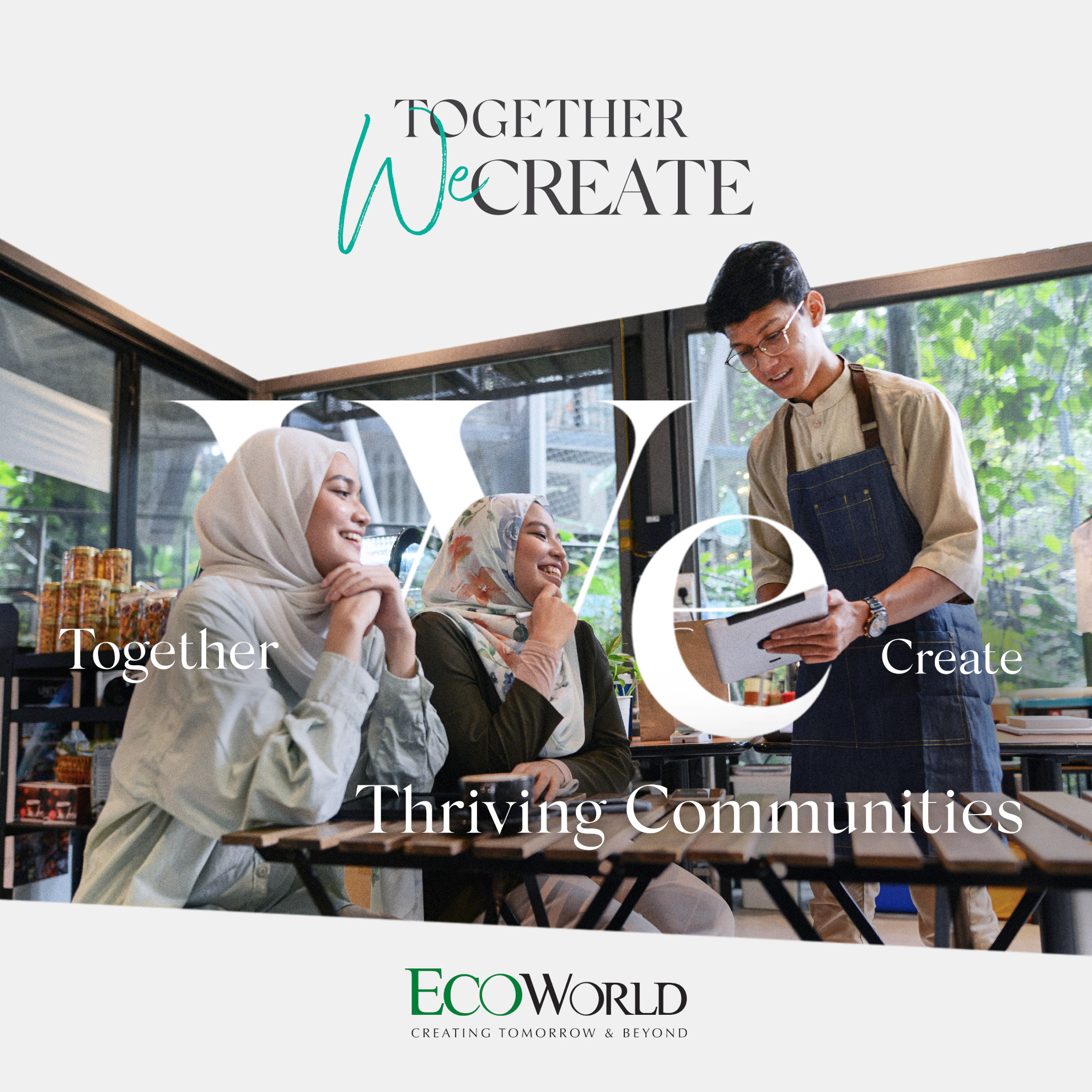 For young entrepreneurs, EcoWorld's rapidly developing townships present themselves as an ideal business environment where new business ventures can be established with great prospects. As strong relationships and the pursuit of common goals are what it takes to build successful communities, EcoWorld is undoubtedly the prime address where you would want to set up your business. With the relative advantage of owning an EcoWorld business address, you will be able to propel your business to achieve new milestones by capitalising on their extensive business networks, connectivity, innovation and focus on sustainability.
Together We Create Sustainable Businesses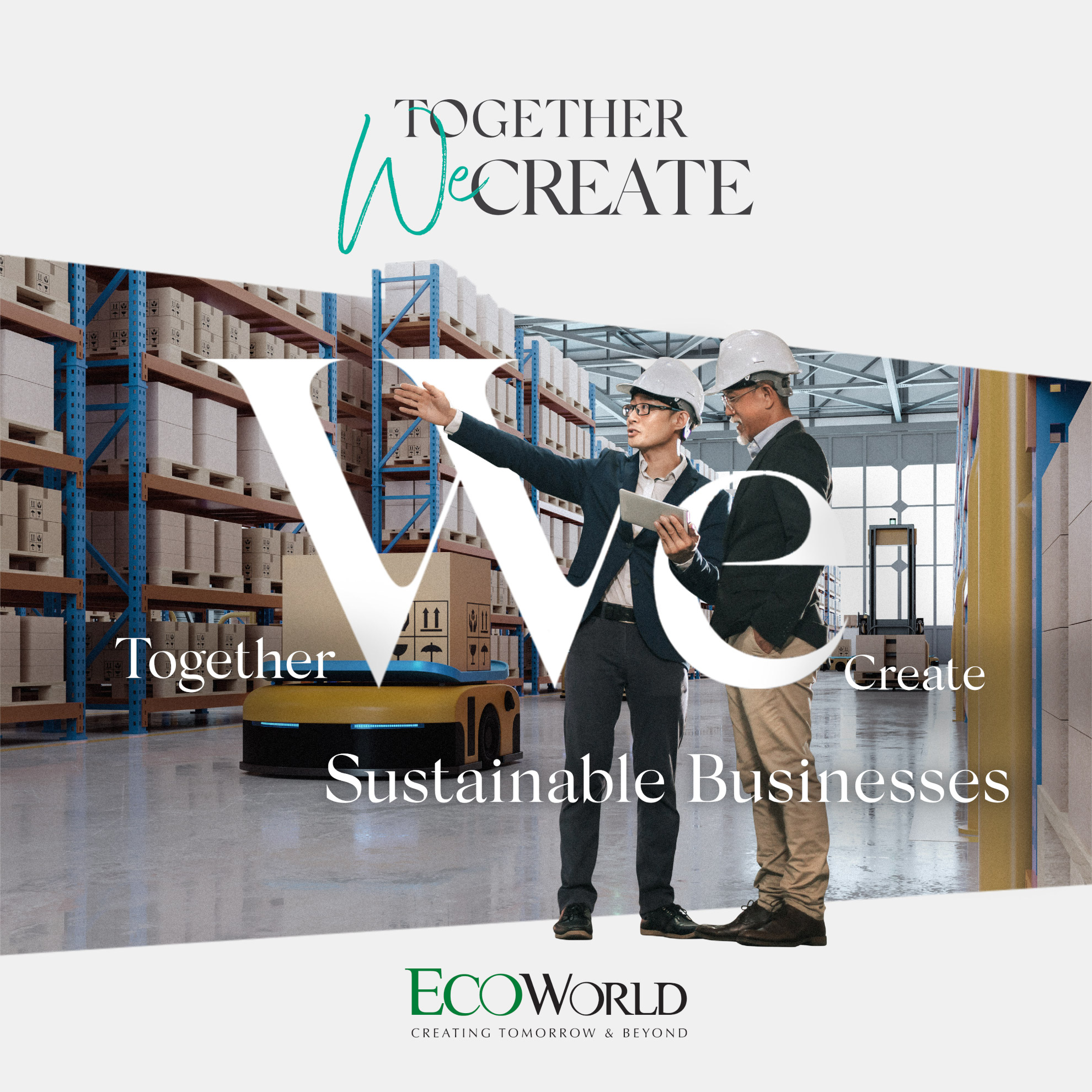 With a well-equipped and dedicated EcoWorld team at their Eco Business Park (EBP), you will definitely be able to find every solution to your business needs all in one location. As EcoWorld strives to realise your true potential, your business venture will be further empowered by the diverse range of green industrial products, innovative solutions and strategic locations that the Eco Business Park has to offer.
Strategically located in Tebrau, Eco Business Park 1 is specially designed to fulfill the various needs of corporate offices, retail outlets, showrooms, warehouses and many more by providing them with a flexible space concept featuring a whole floor loading of 10kN/m2 which is tailored for commercial purposes. Furthermore, the energy-efficient skylight installed in each unit will ensure a low maintenance cost while simultaneously helping to minimise the usage of artificial lighting. Eco Business Park 1's unique design also allows owners to further expand the mezzanine floor for future development. Learn more about EBP by reaching out to Eco Business Park 1's Sales Representative.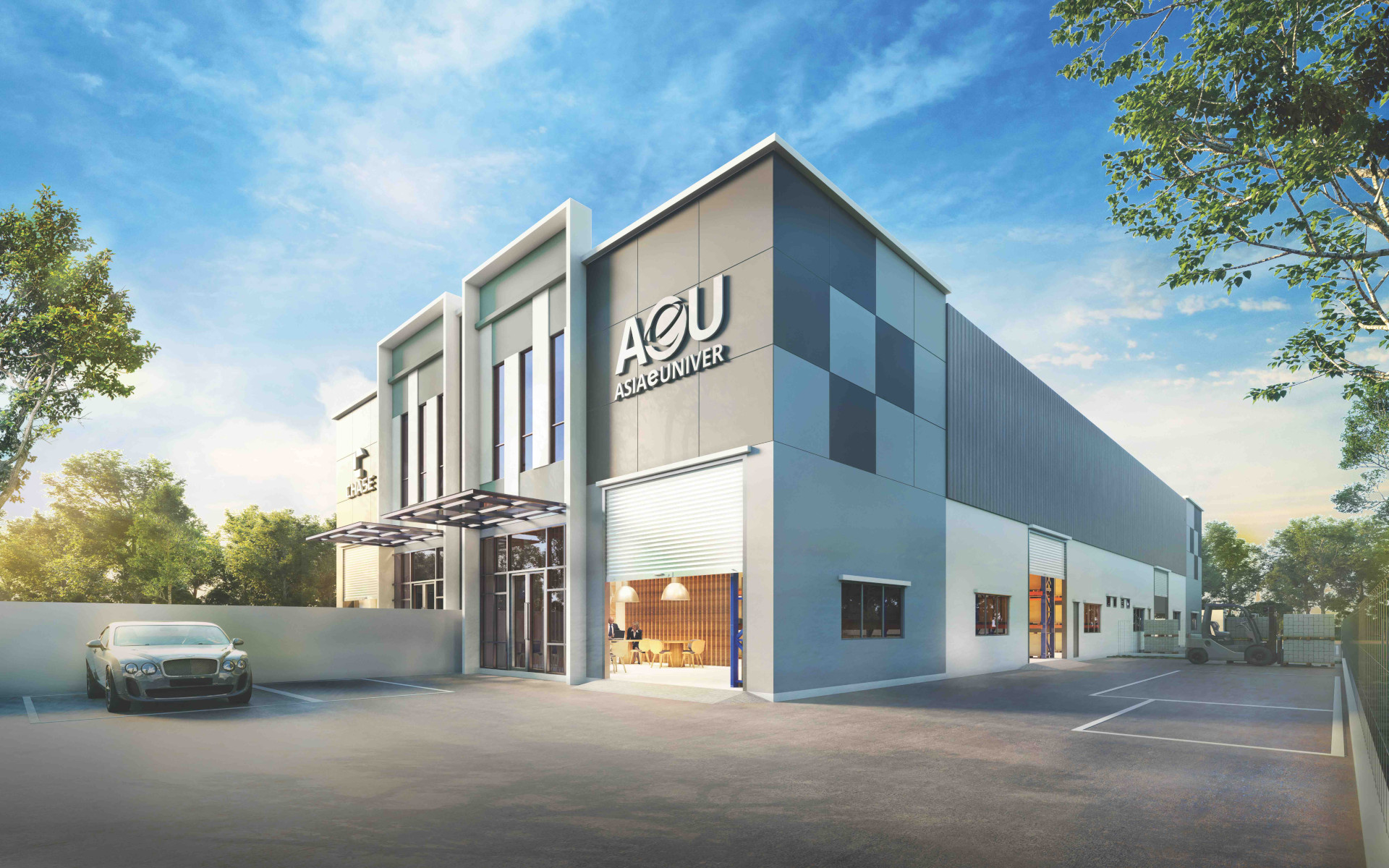 Looking for a Dream Home Package? Or a Business Launchpad Package? Click here to search for your preferred EcoWorld location and product!
*Terms and Conditions Apply