Aspen Group Flashes Irresistible Offer Limited Only on 11.11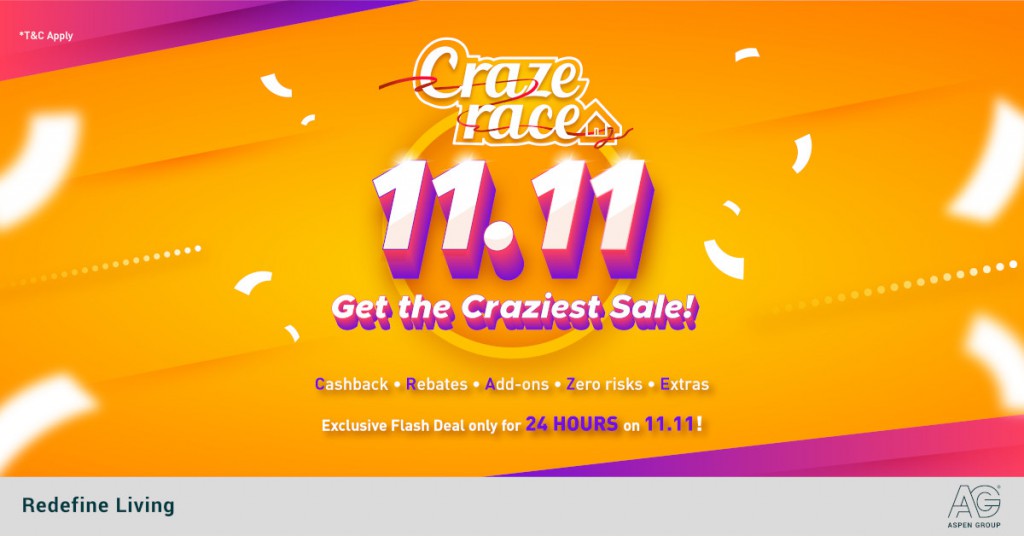 Joining the bandwagon of the famous 11.11 or also well-known as the Single's Day shopping craze, the award-winning and forward-looking property developer, Aspen Group will be flashing an irresistible 24-hour exclusive deal to purchasers who purchase Aspen Group properties on 11.11.
Aspen Group's Divisional Director of Trade, Janice Lim said the flash deal offered in the 11.11 Craze Race is absolutely irresistible and will surely attract prospective buyers.
"On top of the current "Craze Race" package we are also offering unbelievable offers with extra discounts and freebies available only for 24-hours on 11.11," Janice Lim explained.
Janice Lim said the exclusive deal will only be revealed when the interested purchasers get in touch with Aspen Group's sales consultants on 11.11.
"Our professional sales consultants are looking forward to serving our interested prospects and they will provide all the assistance and information that our purchasers are looking for," she added.
"Since the kick-off of our Craze Race Campaign, more than 100 units of properties have been taken up and we are confident that we will be making remarkable sales on 11.11 with our exclusive 24-hour flash deal," she said.
Aspiring buyers can also live chat to speak with the Group's sales consultants to grab these amazing deals via the Group's Facebook page.
The projects featured in this exclusive 11.11 deal are Vertu Resort, Vivo Executive Apartment, Viluxe, Vervea Commercial Precinct, Beacon Executive Suites and Tri Pinnacle.
The first residential project located in Aspen Vision City – Vertu Resort is a lavishly designed development with a 200,000 sq. ft. facilities floor that includes more than 70 top-notch facilities including the 152m-long swimming pool, fulfilling the needs and expectations of each and everyone in the family. This GBI Silver certification residence also features state-of-the-art security, sustainability features, On-Demand service, and exquisite layouts.
Meanwhile, Vivo Executive Apartment is another well-planned development of Aspen Group that perfectly suits young homeowners and families' lifestyles. The executive apartment neighbouring IKEA Batu Kawan is built with communal co-working space and a social kitchen to promote collaboration and networking.
Strategically located facing the lush greeneries of the 25-acre Central Island Park, Viluxe is the one and only premium landed residence in Aspen Vision City and occupy the utmost centre of the project master plan. It is conveniently connected to other Aspen Vision City components including IKEA Batu Kawan and Integrated Regional Shopping Centre. The landed development provides comfort in luxury on a scale that has not been seen before on the South Eastern region of Penang.
Vervea Commercial Precinct is also Northern Region's largest gated and guarded commercial precinct, strategically located at the exit of Second Penang Bridge, and well connects the North-South Expressway and other major roads. The precinct also houses the Vervea Trade & Exhibition Centre (VTEC) in its heart. It features the longest and largest Ethylene Tetrafluoroethylene (ETFE) roof canopy in the country covering the 300-metre High Street recognized by The Malaysia Book of Records. It also has direct connectivity to IKEA Batu Kawan and the proposed Integrated Regional Shopping Centre. Vervea Commercial Precinct is an excellent business-friendly development with a 6.5 million ready catchment surrounding it.
In George Town, Beacon Executive Suites is a distinctive SoHo development that is aptly designed to suit the urban living lifestyle, which is strategically located with direct access to the Tun Dr Lim Chong Eu Expressway. This 30- storey low-density development also boasts distinctive sky facilities featuring an exclusive Sky Podium on its top floor that offers the best view of George Town. The Sky Podium comprises a full range of lifestyle facilities including the Sky Pool, Indoor and Outdoor Gymnasium and Sky Garden.
Additionally, the first private initiated affordable housing project in Penang – Tri Pinnacle, is a high-rise development that enjoys state-of-the-art rooftop facilities. Situated in a prime location and quiet enclave of Tanjung Tokong, Tri Pinnacle is well-surrounded by an upscale neighbourhood and amenities. Featuring a myriad of facilities including the impressive sky facilities namely Infinity Sky Pool, Sky Garden, Sky Gymnasium and Sky Lounge.
For more information on Aspen Group's ongoing programmes, kindly visit Aspen's Facebook page www.facebook.com/myaspengroup or call 1300 30 5000. Alternatively, you can find more information at Aspen's website www.aspen.com.my.