Walk-in vaccinations at 10 Penang PPVs from tomorrow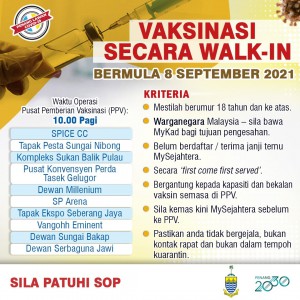 Penangites can walk in to get vaccinated at 10 selected locations across the state from tomorrow, as the state ramps up vaccination to stem the growing number of cases there.
The walk-in is available for locals aged above 18 and citizens who have yet to register or receive appointment dates on the MySejahtera mobile app.
Penang will receive one million doses by the end of the month as part of the health ministry's efforts to push vaccination in the state, which is among the worst-hit in the country.
In a statement, chief minister Chow Kon Yeow said the vaccines will be given on a first-come first-served basis at the following locations starting at 10 am tomorrow: SPICE, Tapak Pesta Sungai Nibong, Kompleks Sukan Balik Pulau, Pusat Konvensyen Perda; Dewan Millenium; SP Arena; Tapak Ekspo Seberang Jaya; Vangohh Eminent; Dewan Sungai Bakap; and Dewan Serbaguna Jawi.
Chow said the state health department would improve its response time for Covid-19-related inquiries by those being quarantined at home to within 24 to 48 hours.
He said a special Covid-19 assessment centre (CAC) hotline at 04 382 7143 and 04 382 7142 will take calls from the public over any concerns. Another hotline under the PgCare Alliance will also take queries through 04 642 7777 or email pgcarealliance@gmail.com.
Chow said the 999 emergency call response has been improved by piping in emergency calls to a unified command centre, and also to assist with the transport of patients to hospitals or low-risk centres.
Source: FreeMalaysiaToday.com