Esplanade seawall project to be completed by Q1 next year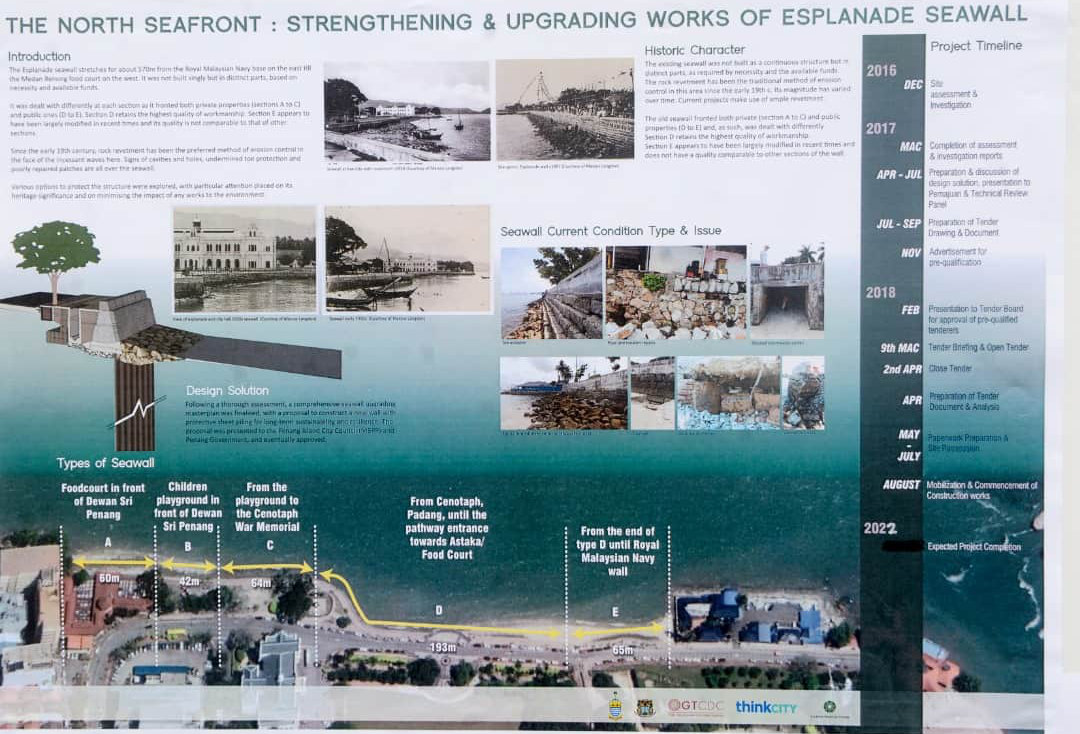 The seawall restoration project at the Esplanade would be completed in the first quarter of next year while the Fort Cornwallis moat reinstatement project, which would be implemented next year, would be completed in 2024. YB Jagdeep mentioned this during a press conference on the current status of the Penang Hill Special Area Plan and the George Town World Heritage Site near the Clock Tower in Light Street yesterday.
These projects come under the George Town Conservation Development Corporation (GTCDC), a partnership between the Penang State Government and Think City.
To complement the seawall restoration project, he said there would be a Seawall Linear Garden, an open space adjacent to the seawall project, for the public social wellbeing.
Also present at the press conference were the Penang Island City Council (MBPP) secretary Datuk Addnan Mohd Razali, Think City managing director Hamdan Abdul Majeed and Penang State Heritage Commissioner Rosli Nor.
Hamdan said: "We are pushing forward with various projects in mind as YB Jagdeep had highlighted. We will ensure that these projects will be completed in quarter one next year progressively and when the recovery (Covid-19) comes, we are ready to celebrate and set Penang to the global stage."
Rosli, who was appointed as the Penang State Heritage Commissioner on Sept 1 this year, was the general manager of Melaka World Heritage Office since 2011.
"We will restore most of Fort Cornwallis, one of the most important structures of old Penang. The restoration will bring back the old glory. It is not only an important structure for tourism but also for education because the structure will give a clue to architects, engineers and planners on how the old construction was done in Penang.
"Although it was done during colonial times, the fort was built by local people, local techniques and local materials. So, this heritage is something the people of Penang should be proud of," Rosli said.
Source: Buletin Mutiara