Teluk Kumbar to be a low-carbon city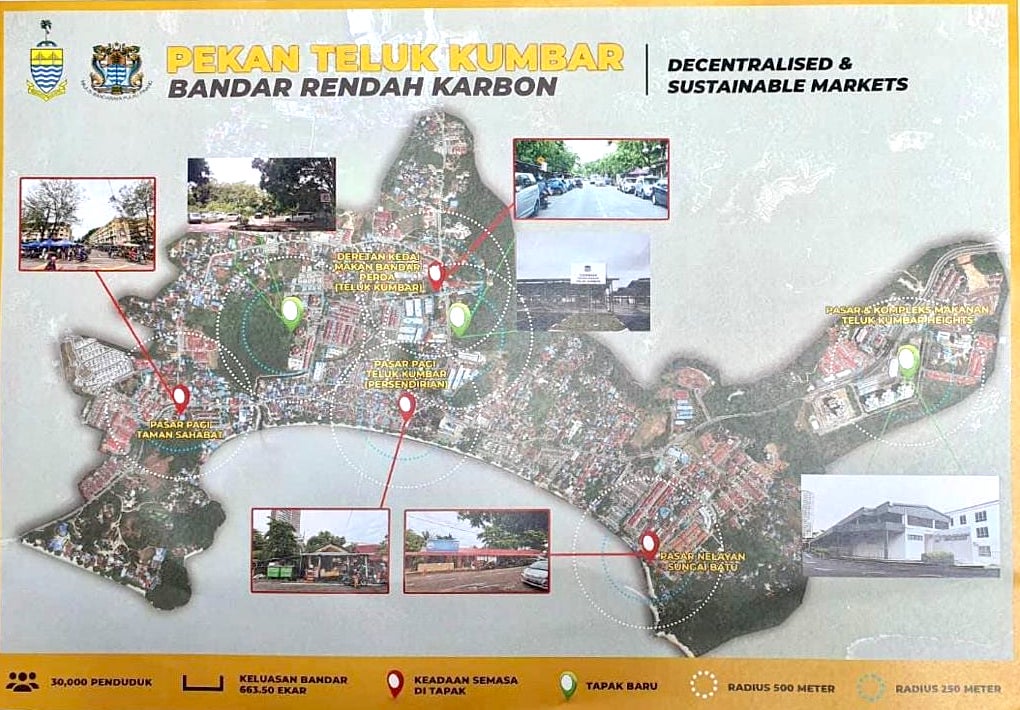 The Penang Island City Council (MBPP) plans to make the Teluk Kumbar town into a low-carbon city, says its mayor Datuk Yew Tung Seang.
"Teluk Kumbar is a nice place. Many always come here to enjoy its ambience and nice food, like mee udang.
"We plan to make this place a low-carbon city, workable and cycling-friendly," Yew, an ardent cyclist himself, said during his speech at the official opening of the Teluk Kumbar Heights Market and Food Complex in Teluk Kumbar today.
Yew continued: "We'll incorporate the green concept into this complex. We've always been here with the community to see to their needs. Hence, we're happy here today to make this a decentralised and sustainable market.
"Decentralised and sustainable market is the way to go. We'll look into things with a 'less is more' approach to bring benefits to the surrounding areas."
He said the Teluk Kumbar Heights Market and Food Complex, costing RM1.8 million, has eight market stalls and 16 hawker stalls.
It is expected to open at the end of next month as MBPP is now in the process of interviewing applicants.
Yew said the nearby markets include the Fishermen's Market in Sungai Batu, a private market and a morning market in Taman Sahabat.
Also present were state Local Government, Housing, Town and Country Planning Committee chairman Jagdeep Singh Deo, Bayan Lepas assemblyman Azrul Mahathir Aziz, MBPP secretary Datuk Adnnan Mohd Razali, and MBPP councillors Harvindar Singh and Nicholas Theng Jie Wey.
Jagdeep commended Yew for his initiative to make the place eco-friendly, which is in line with the Penang2030 vision for a 'Family Focused, Green and Smart City that Inspires the Nation'.
"Congratulations to the mayor, developer and architect for such a beautiful market. I fully agree with the mayor's suggestion to make this complex a green building. I also notice that it has already adopted the rainwater harvesting technology.
"This is an important project that has been successfully developed. There are four flats in this vicinity with several thousand people living here.
"I am happy that the market complex is easily accessible and is for the convenience of the residents here," Jagdeep said.
Jagdeep, however, urged the public to adhere to the standard operating procedures (SOPs) as the Covid-19 cases continue unabated.
He warned that the Penang Island City Council and Seberang Perai City Council (MBSP), together with the police, would not hesitate to close any market infringing the SOPs.
Since the pandemic occurred early last year, Jagdeep said the local authorities have shut down 16 markets – eight on the island and eight on the mainland – after several Covid-19 cases were detected.
Azrul said he was thankful to Jagdeep and MBPP for establishing a new market complex for the Teluk Kumbar residents.
"There a lot of newcomers now staying in Teluk Kumbar and I am happy that this new market will provide them the necessary service. This is one of the very good markets I have seen," Azrul said.
Source: Buletin Mutiara