Lam Research opening its largest manufacturing plant at Batu Kawan
Chief Minister Chow Kon Yeow today congratulated Lam Research Corporation on the official opening of its latest and largest manufacturing facility in Batu Kawan, the first wafer fabrication equipment maker to have set up their business with a manufacturing plant in Malaysia.
The corporation has invested RM1 billion in its new facility located on a 34-acre site, increasing its original plan of utilising 700,000sq ft to 800,000sq ft for its office, manufacturing facilities and warehouse.
On top of that, the manufacturing plant, known as Lam Research International Sdn Bhd, has already exceeded hiring 350 employees as planned for three years since it began operations in May this year and would be hiring 600 in all by the end of the year, according to its general manager Soon Kuek.
Chow said although the Covid-19 pandemic has undoubtedly thrown many plans into disarray, the state machinery has worked closely with each other and with coordinated partnership with the Federal Government, the state has ensured minimum disruptions to the business community.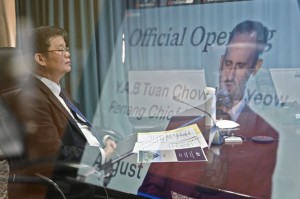 "The opening of Lam Research's largest manufacturing facility within the stipulated plan is a testament to our ongoing efforts in supporting all our investors.
"We are confident that Penang's versatile talent pool, supportive infrastructure and strong local industry clusters will enable industry players to effectively manage their supply chain and improve time-to-market at a competitive cost. All of which would further value add towards Lam Research's operations here in Penang.
"The presence of Lam Research as the first global leader in the manufacturing of wafer fabrication equipment in Malaysia, will bring about greater opportunities for the local workforce to learn new technical skillsets and industry players would benefit from the supply chain localisation opportunities.
"These, in turn, will help Penang to further integrate into the global semiconductor value chain," Chow said in his speech during the virtual opening ceremony.
Among those taking part in the online ceremony were US ambassador to Malaysia Brian D. McFeeters, Chief Minister of Penang's special investment adviser Datuk Seri Lee Kah Choon, InvestPenang chief executive officer Datuk Loo Lee Lian, Seberang Perai City Council mayor Datuk Rozali Mohamud and Malaysian Investment Development Authority (Mida) deputy CEO Ahmad Khairudin Abd Rahim.
Present at the ceremony in the Batu Kawan plant itself were Lam Research Corporation president and CEO Tim Archer, corporate vice-president of manufacturing Mike Snell and general manager Soon Kuek.
Chow went on to say 42% of Penang's approved manufacturing FDI from 2019 to 2020 was contributed by the US companies and Lam Research is certainly one of the strategic projects that Penang is proud of.
"Lam Research's significant investment in Batu Kawan reinforces Penang's position as a preferred location for advanced manufacturing and upholding our accolade as "Silicon Valley of the East".
"On the trade front, Penang continues to play a substantial role in driving the country's exports. Penang recorded an export of RM310 billion in 2020, representing 32% of Malaysia's total.
"Importantly, 60% of Penang's exports were E&E products. Our performance continued to gain momentum with exports increased by 23% year-on-year to RM138 billion in Jan-May 2021," Chow said.
Archer, in his speech, said his corporation chose Penang and Malaysia for manufacturing expansion because of their thriving semiconductor ecosystem and access to a talented workforce with experience in high-tech fields.
He said global demand for semiconductor and semiconductor manufacturing equipment was robust, contributing in a big part to a revenue increase of 45% compared to last year.
He said today marked the first anniversary of their establishment in Malaysia, starting with eight employees and now having a workforce of 450.
Source: Buletin Mutiara