Penang ready to move into Phase 2 of NRP by next week.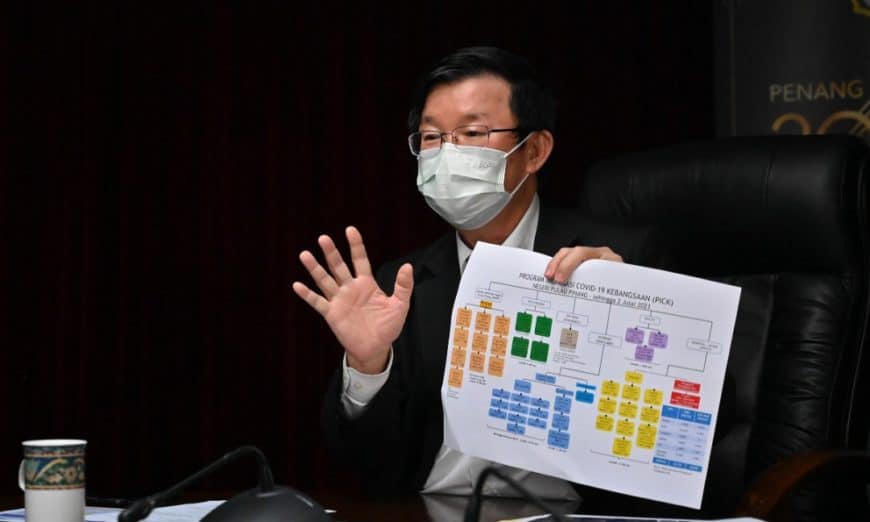 Penang is confident of moving into Phase Two of the National Recovery Plan by next week when 10 percent of its population get their second dose vaccination, says Chief Minister Chow Kon Yeow.
He said by this Wednesday or Thursday, the state should be able to achieve the 10 percent target.
Chow too is optimistic of Penang receiving 591,523 doses of vaccine under the National Covid-19 Immunisation Programme this month and August.
"The Federal Government has fixed 10 percent of adult population as a threshold to be achieved before each state could move to Phase Two," Chow said.
He was speaking to representatives of 11 trade organisations in a virtual meeting that was organised by the Federation of Malaysian Manufacturers Penang (FMM Penang) on the 'Status of the Vaccination in Penang' yesterday.
The Federal Government later on the same day announced five states had already fulfilled three indicators of the NRP to move to the Phase Two with the opening of more economic sector. Each phase will have their own standard operating procedures and activities allowed or disallowed.
Chow said Penang's next objective is to see the 60 and above age group completes the vaccination process as soon as possible before it moves on to target the 60 and below age group this month.
He said Penang would be seeing better days ahead as it has been promised more supply of vaccines this month.
In fact, he said now is case of a balancing act between the vaccination centres' capabilities and also the vaccines that the state would be able to receive.
"We will see a huge spike in number of vaccine supply. These two months will be critical," Chow added.
For both FMM Penang chairman Datuk Jimmy Ong and immediate past president Datuk Seri Ooi Eng Hock, the reason FMM Penang organised the meeting yesterday was because of the huge challenges ahead of them and they would like to know when all the employees of SMEs would be vaccinated.
The meeting was a fruitful one as Chow and Miti Penang director Jegan Subramaniam took questions from a few of the participants regarding the public-private partnership Covid-19 Industry Immunisation Programme (Pikas) and vaccination centres.
Among those who took part in the virtual meeting were state Entrepreneurial Development, Trade and Industry Committee chairman Datuk Abdul Halim, state Agrotech and Food Security, Rural Development and Health Committee chairman Dr Norlela Ariffin and Jegan.
Source: Buletin Mutiara