6 Penang private hospitals to start doling out vaccines next week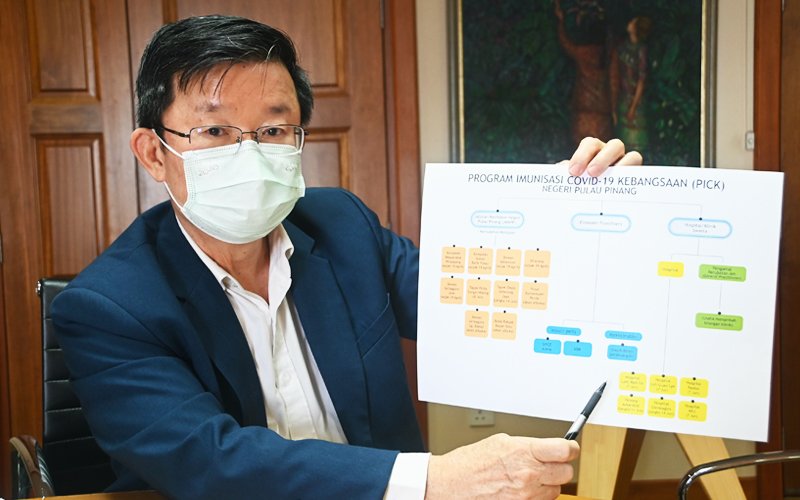 Six private hospitals in Penang will dole out Covid-19 vaccines with an additional four vaccination centres (PPVs) to be opened alongside in the near future.
Chief minister Chow Kon Yeow said this would help the state achieve herd immunity by October.
He said the private hospitals involved would be Lam Wah Ee (from June 7), Loh Guan Lye (June 14), Pantai (June 7), KPJ (June 7), Penang Adventist(June 14) and Gleneagles (June 14).
Chow said the starting dates for the hospitals were estimated dates.
Those getting the jabs must have registered through the MySejahtera mobile phone app.
He said the other standalone PPVs set to open would be at the Pesta Sungai Nibong site (June 8), Balai Rakyat Bayan Baru, Perda Convention Centre, Bukit Mertajam, Seberang Jaya Expo Hall (June 14) and Sungai Bakap Multipurpose Hall.
At present, six PPVs and six government hospitals are providing vaccination against Covid-19.
Chow said as for the economic sector frontliners, vaccines would first be given to workers in the manufacturing industry, followed by those in the construction and tourism sectors.
He said Universiti Sains Malaysia would also be made into a drive-through vaccine centre soon.
"One of the pressing needs is for another three more 'mega PPVs' able to handle 5,000 doses a day," he said in a statement.
Yesterday, the Spice Arena was turned into a mega PPV, with 133,000 doses of the AstraZeneca vaccine given to those who had registered from June 7 to 27.
A total of 827,135 Penangites have registered for vaccines as of now, according to the government vaccine portal But, as of now, only 96,757 people in Penang have been given these vaccines.
Source: FreeMalaysiaToday.com