Muze @ PICC engages Simon Electric for smart home system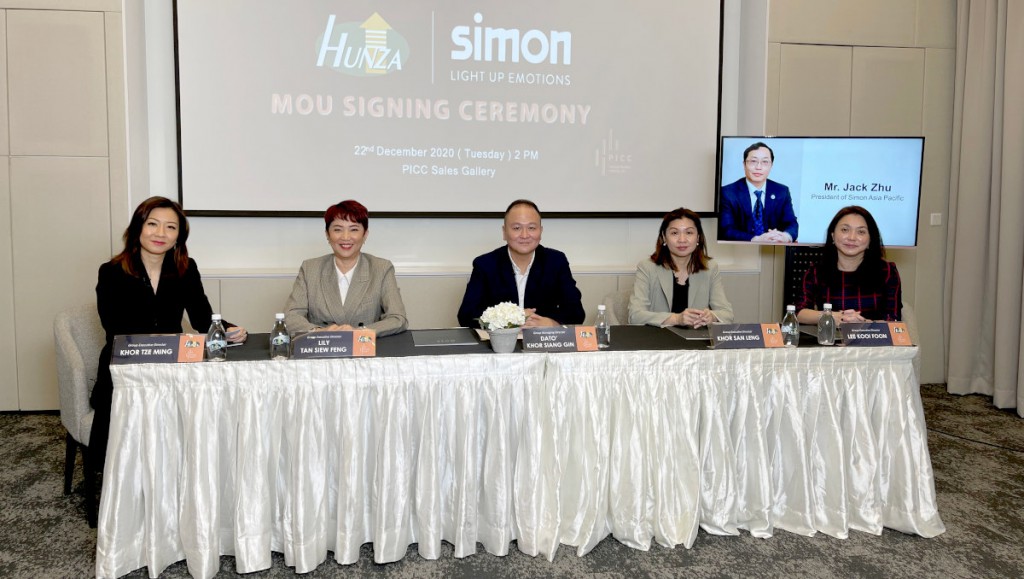 Hunza Properties Berhad and Simon Electric yesterday signed a Memorandum of Understanding (MoU) to commemorate a project that has been awarded to the latter for the deployment and provision of Smart Home System, Home Switches and Sockets for the first smart integrated residential development in Penang, MUZE @ Penang International Commercial City (PICC).
The ceremony, which was held via live streaming from both Penang and Shanghai due to the international travel restriction, signifies an important milestone for PICC as it further reinforces Hunza's commitment towards building a high quality, value added product for its stakeholders. Simon Electric's smart solutions have been implemented in high profile projects around the world such as Beijing National Stadium (China), the iconic Moscow Kremlin (Russia), Marriott Auditorium Hotel Madrid (Spain) and Saigon Airport Plaza (Vietnam).
On this significant occasion, Dato' Khor Siang Gin (the Group Managing Director of Hunza Properties Berhad) said, "This collaboration does not only reflect our development philosophy, but it is also a testament of our commitment to introduce a smart and modern lifestyle to the PICC community. Simon Electric's professional touch will undeniably add value to the living environment in MUZE @ PICC, and it plays well into PICC's ecosystem as a smart city. It is our aspiration for PICC to be a game-changer in future-oriented development here in Penang."
Mr. Jack Zhu, the President of Simon Electric Asia Pacific who represented Simon Electric in the virtual ceremony commented that, "Owners of MUZE @ PICC will be able to enjoy greater convenience and better control of their homes through the various life-enriching technologies such as IoT (Internet of Things), our primary Smart Home System and so much more. We look forward to bring a future-oriented living to Penang, which has long been known as one of the most liveable cities in Asia and the Silicon Valley of the East."
Both Hunza and Simon Electric will be looking to leverage each other's core competencies as well as strengths in developing high quality residences with state-of-the-art smart home system that will become a benchmark for the local real estate industry.
Hunza Properties Berhad was represented by Dato' Khor Siang Gin while Mr. Jack Zhu signed the MoU on behalf of Simon Electric. The Company's Founder and Executive Adviser, Dato' Seri Khor Teng Tong, The Board of Directors of Hunza Properties Berhad (Ms. Khor San Leng, Ms. Khor Tze Ming, Ms. Lily Tan and Ms. Lee Kooi Foon) were also present during the virtual ceremony together with Mr. Juan Gallardo, the Head of Marketing for Simon Asia Pacific.