It's official, Penang's iconic ferries will be replaced by speedboat from 1 Jan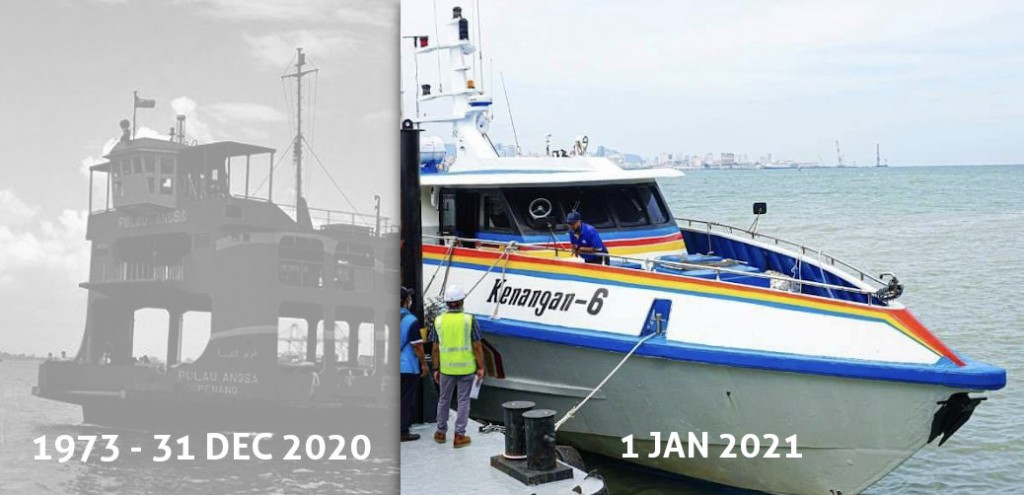 Transport Minister Wee Ka Siong confirmed today that Penang would have to bid adieu to its old ferries, despite a promise made by Finance Minister Tengku Zafrul Aziz in the Dewan Rakyat.
The ferries will make way for the "safer, faster and cheaper-to-maintain" water buses (to carry passengers) and lighters (to carry motorcycles), expected to arrive by mid-2022.
In a statement, Wee said that while many had expressed regret over the doing away of old ferries, passenger safety was paramount and hence a newer generation of ferries had to be put into service.
"It is undeniable that the service carries an intangible cultural and heritage value for many Malaysians who enjoy the trip.
"Several quarters have expressed regret with the decision although it is aimed at making the Penang ferry service safer, faster and less prone to unsustainable maintenance costs.
"Costs have been spiking at least once a month with the existing 47-year-old ferries (as repairs had to be done).
"It was a considered decision to modernise the ferry fleet. We want to avoid unwanted incidents and inconveniences that may occur.
"I have again explained to Chief Minister Chow Kon Yeow on the federal government's plan to replace the existing ferries to optimise the safety, sustainability and security of the passenger ferry fleet.
"We want to ensure the service continues to be enjoyed by both locals and tourists," Wee said.
Tengku Zafrul had said earlier that the ferry services would continue, with a total of RM30 million allocated by the government — to be released in two tranches in 2021 and 2022.
Recently, it was announced that port operator Penang Port Sdn Bhd (PPSB) would spend RM30 million on its end to upgrade ferry terminals on the island and mainland, and acquire three water buses and two motorcycle transporters. This would replace the current ferry service in mid-2022.
Cars will be barred from using the ferries from Jan 1, with one old ferry being used only for motorcycles. Until the new water buses and lighters arrive, passengers will be ferried using speedboat ferries, similar to the ones used in Langkawi.
In a separate statement, PPSB said pedestrians will not be charged any fee to use the speedboat ferries for two weeks, beginning Jan 1.
Currently, pedestrians pay RM1.20 for a two-way ride on the ferry.
Source: FreeMalaysiaToday.com