Ideal Residency breaks ground today, to be completed by 2024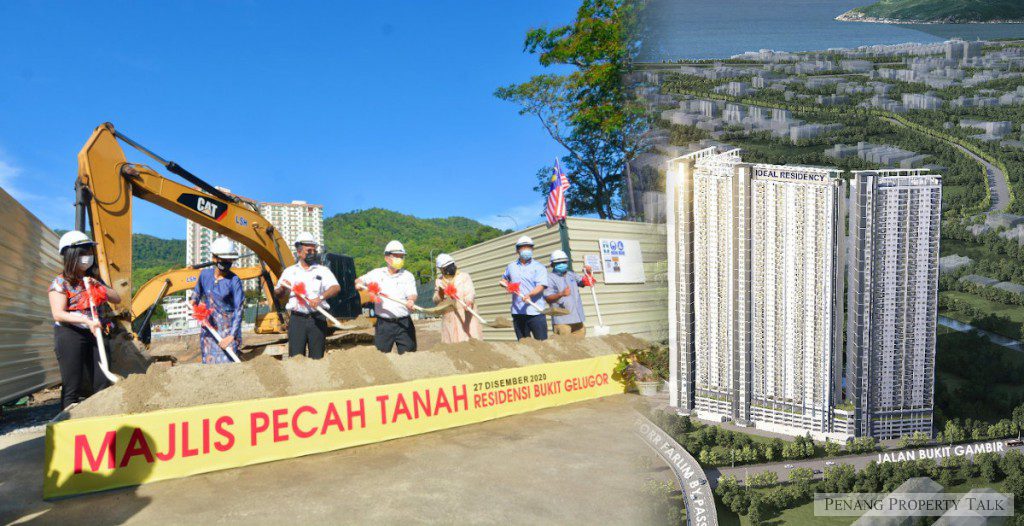 Penang has achieved yet another milestone when the ground-breaking ceremony of the Residensi Bukit Gelugor (a.k.a. Ideal Residency) affordable housing project took place at the junction of Jalan Gambir and Jalan Lembah today.
Chief Minister Chow Kon Yeow said the project, a collaboration between the Federal Government, through its public housing agency Perbadanan PR1MA Malaysia, developer Ideal Property Group and the state government, would provide 2,850 affordable units on two plots of land.
Each unit, measuring 850sq ft, is proposed for sale at RM300,000.
"The initial proposal for this 16.2-acre land was a mixed development. But at the request of the Penang state government, PR1MA has agreed to use this land entirely for affordable housing for the good of the people of Penang.
"The spirit and teamwork between both the Federal Government and the state government in 'housing' the people of Penang should be continued in other PR1MA projects in the state to ensure the well-being of the people of Penang as a whole," Chow said.
He said the state government has targeted to build 200,000 low-cost, low medium-cost and affordable homes by 2030 in line with the state's Penang2030 vision, increasing it from its initial target of 180,000 units.
"This will be my KPI," added Chow, who also complimented Syerleena for facilitating the moving out of residents for the project to kick off.
Chow later took part in the ground-breaking ceremony together with Housing and Local Government Minister Zuraida Kamaruddin, state Local Government, Housing, Urban and Rural Planning Committee chairman Jagdeep Singh Deo, Seri Delima assemblyman Syerleena Abdul Rashid, PR1MA Development Head Zulkarnain Zainuddin, Ideal Property Group executive chairman Tan Sri Alex Ooi and his wife Puan Sri Joanne Phor, who is the Ideal Property Group executive director.
Zuraida said the Residensi Bukit Gelugor project would be used as a model for other PR1MA projects in Penang.
Besides the two projects at Residensi Bukit Gelugor, the state has been officially informed that there are two PR1MA projects at Permatang Pauh in the mainland and Jalan Sungai Batu in Batu Ferringhi in the island.
"This is a good job. We will try our very best to support whichever state. The state doesn't matter; it is about the people. It's not about the politicians, but it's about the people. That is the policy we want to implement.
"We want to find a business model that is sustainable and viable. The old model where the (Federal) Government provided land, provided funds and handled the sales is not viable and cannot be used anymore because it would burden the Government.
"The new model is a migration from the conventional PR1MA. We're into joint venture with private developers. We'll provide the land but they have to agree to our terms and conditions. If not, we will find other developers," Zuraida told a press conference.
She also revealed that her ministry has plans to regenerate old PPR housing schemes that are over 30 years old, especially those with lift problems and leaky roofs.
"We intend to tear down these PPR buildings and rebuild them. We want to build units that are not less than 900sq ft to upgrade the residents' living standard," Zuraida added.
Under Budget 2021, she said the Housing Ministry has been allocated a RM1 billion guarantee to help those facing loan issue with the banks to take up rent-to-own units.
Zuraida commended Ooi and Ideal Property for developing amenities and facilities such as swimming pool, indoor badminton court, full basketball court, jacuzzi, jogging track, gym room, yoga room, ping pong room, a garden, kids pool, and multipurpose halls.
Jagdeep said even before the Covid-19 crisis, he had advised developers to build more affordable homes instead of luxurious homes costing over RM1 million.
"It was an uphill task (to convince the developers). It's not that I am thankful for Covid-19 but RM1 million units cannot be sold at this time. That's the reality.
"The Penang government always want to assist the B40 group to be able to own a roof over their heads. That's the basic human need," said Jagdeep.
Penang, he said, has so far hit 106,000 mark for low-cost, low medium-cost and affordable homes, considering that 34,000 had been built, 23,000 are being built and 49,000 are planned to be built.
Ooi said the freehold Residensi Bukit Gelugor project is scheduled for completion by 2024 for its first phase development.
He said the project is strategically located and poised to be another highly popular housing scheme as it will give residents easy access to major destinations, Penang Bridge, George Town, Bayan Lepas Free Trade Zone as well as Penang International Airport.
Source: Buletin Mutiara