Penang aims to provide 220,000 units of affordable housing by 2030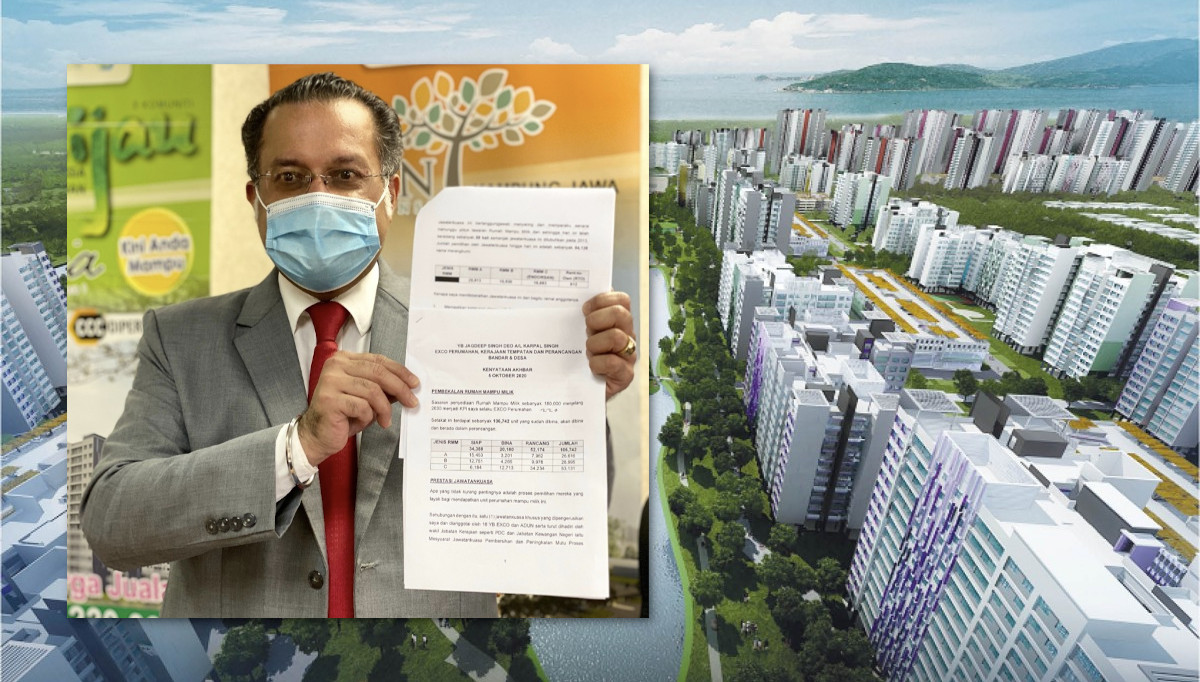 The Penang State Government is now setting a new target to provide 220,000 units of affordable housing by 2030.
Penang Local Government, Housing Town and Country Planning Committee chairman Jagdeep Singh Deo said, previously the State Government set a target to provide 180,000 units of affordable housing as part of  vision Penang 2030.
"However, two weeks ago I submitted a proposal in the Exco meeting to add another 20 percent or 40,000 units of affordable housing and it was agreed to address the increased demand from those affected by COVID-19 pandemic.
"And it is the priority of the State Government to provide adequate affordable housing of various types for the people in this state," he said at a press conference in Komtar on 5 October 2020.
Also present were Senior Assistant Secretary (Housing), 'Ainul Fadhilah Samsudi and representatives of the Penang Development Corporation (PDC).
According to Jagdeep, to date a total of 106,742 units of affordable housing are available at various categories.
"Of the total, 34,388 units have been completed; 20,180 units are under construction and 52,174 units have been approved for construction.
"(And) of the total as well, a total of 26,616 units are affordable houses (RMM) Type A; 26,995 (Type B) and 53,131 (Type C) with prices offered at RM42,000, RM72,500 and below RM300,000 respectively.
"The 20 percent increase will also include houses with price from RM42,000 to RM300,000," he said.
Commenting further, Jagdeep who is also the Chairman of the Selection Process Enhancement Committee (SPEC) informed that the committee has approved a total of 54,138 housing applications.
Since its establishment in 2013, this committee has met 58 times where all committee members consisting of Exco, State Assemblyman (ADUN), Member of Parliament (MP) and Housing Division.
"Of the 54,138 applications that have been approved, a total of 25,913 applications are for RMM Type A; 10,930 (RMM Type B), 16,683 (RMM Type C) and Rent-To-Own (RTO) of 612 units.

"Only truly qualified applicants will be given affordable housing units and this committee will continue to screen and recommend waiting lists until no more waiting lists are reported," he said.
Speaking about the waiting list, Jagdeep said that there was previously a list of applicants since 1976.
"To recognize the effectiveness of this committee, I am glad to announce that there is no waiting list for RMM Type A in the Seberang Perai Tengah (SPT) district for the quota of all races.
Meanwhile, for the Southwest and North Seberang Perai (SPU) districts, there is no waiting list for Chinese and Indian quotas.
"As for RMM Type B, the Southwest and SPU areas are reported to have no waiting lists for Chinese and Indian quotas.
"And for RMM Type C, all districts are reported to be given offers according to the project applied for by the applicants."
"Since there are already locations that no longer have a waiting list, the houses will be offered to the eligible applicants according to the current demand and supply. "
"For the Northeast district, the demand is very high but supply is very limited due to high population density with limited land to be developed.
Source: Buletin Mutiara