Ideas and concepts to transform Penang Bay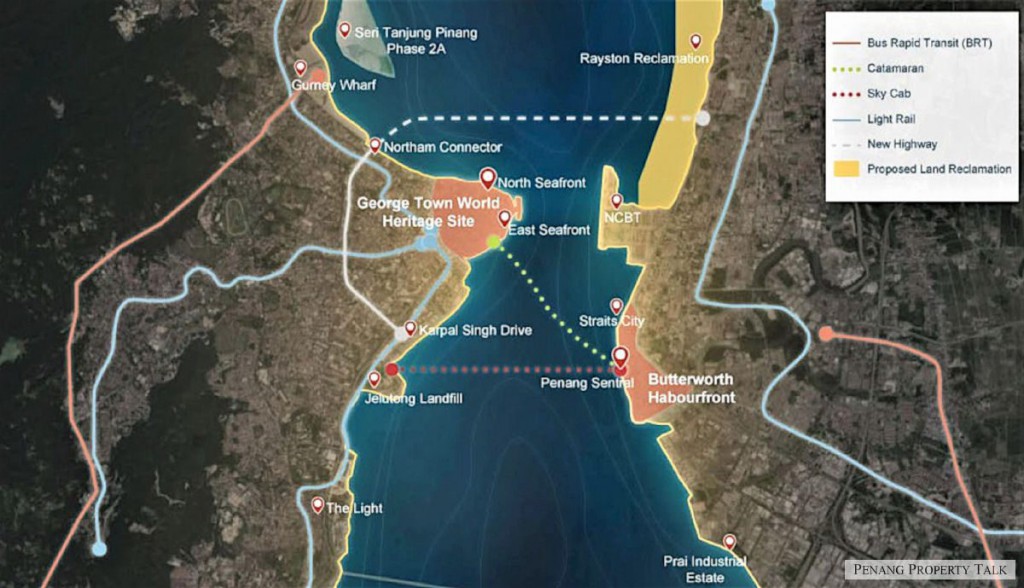 Chief Minister Chow Kon Yeow officially launched the Penang Bay International Ideas Competition at Wisma Yeap Chor Ee in George Town today with the hope that the ideas put forth could be tapped by potential developers to transform Penang Bay.
He said the Penang state government, Chief Minister Incorporated (CMI) and Think City are not going to be the mega developers of Penang Bay but they are partners who work together as initiators, integrators and facilitators of development of the Penang Bay.
"This is an idea competition, just an opportunity for Penangites and participants to understand and to appreciate the focus of the state government, Think City and George Town Conservation and Development Corporation (GTCDC) as to the future vision of Penang Bay.
"The ideas can be used to harness the potential of the waterfronts that we have, integrate George Town and Butterworth connectivity, encourage conservation and heritage, and also put new use into this area," Chow told a press conference at Wisma Yeap Chor Ee today.
Chow said the top three winners and five consolation winners of the competition would be announced in January next year.
The ideas competition is an invitation to propose ideas, designs and concepts for the three component areas, namely George Town Waterfront, Penang Strait and Butterworth Waterfront.
Citing the Jelutong dumpsite as an example, Chow said the winners of the competition might have certain ideas on how the landfill, after undergoing rehabilitation, could add value to the Penang Bay area.
Their ideas, he said, could hopefully be used by the future developers of the Penang Bay project to complement their own plans.
He added that participants are also required to incorporate sustainable development goals and Penang2030 vision for a holistic plan to develop Penang Bay.
He said Think City managing director Hamdan Abdul Majeed had been sharing with him for quite some years on George Town and Butterworth as an important growth conurbation.
Chow congratulated CMI, GTCDC, Think City, Penang Island City Council (MBPP), Seberang Perai City Council (MBSP) and other relevant agencies for working together although the plan was disrupted for a while by the Covid-19 pandemic.
Participants will have until Oct 19 to prepare submissions. The cash award for the top three winners are US$20,000, US$8,000 and US$4,000 while the five consolation winners will each get US$1,000.
State Local Government, Housing, Town and Country Planning Committee chairman Jagdeep Singh Deo, who led a delegation to the World Urban Forum 10 in Abu Dhabi to pitch the Penang Bay project to potential investors, said they had received a number of queries.
He said the discussion to reinvigorate Penang's shorefronts was held about two years ago.
"Penang is blessed with waterways but we were not maximising its potential," Jagdeep said in his speech.
"When we were discussing, we said we must find spaces to cater to industries because there is definitely a massive demand for that. We're the leading industrial state manufacturing hub in Malaysia. Penang is land scare and we must capitalise on what we have.
"We're not looking at flat industrial areas now. We're looking at vertical industrial buildings. That is what is happening around the world.
"This project will span some 30km of waterfronts, both here on the island and mainland. On the island, the land area that would probably be part and parcel of this project is 1,800 acres and on the mainland it is 4,500 acres.
"We're talking about 6,300 acres. That is probably the biggest project for Penang thus far. And this project will kick off very quickly. After the ideas design competition, it can be executed immediately because it is not a project that awaits reclamation.
"Of course, things will be done in phases. It will be done very quickly and very surely."
Hamdan said the ideas competition was to tap into the world's best innovative minds to reimagine George Town and Butterworth waterfronts as a new economic zone.
He added that a panel of distinguished and local international judges would select the winners.
"We believe we have the right ingredients that will help us to take advantage of a changing world and position Penang for the future," said Hamdan.
"The competition is open to all innovators and thinkers from all over the world, whether individuals, teams or firms, and must address the challenges of climate change, technological disruption and social transformation.
"We've also adopted the United Nations sustainable development goals (SDGs) as a foundation of their solutions. The competition will enable us to understand and resolve Penang's challenges while taking hold of the opportunities to prosper."
Also present at the press conference were state Domestic and International Trade Entrepreneur Development and Consumer Affairs Committee chairman Datuk Abdul Halim Hussain, MBSP mayor Datuk Rozali Mohamud, Penang Development Corporation general director Datuk Mohd Bazid Abd Kahar, CMI deputy general manager S. Bharathi, PLANMalaysia (Penang branch) deputy director Mohd Bashir Sulaiman and Think City urban solutions programme director Dr Matt Benson.
Source: Buletin Mutiara