Many hardware, spare part and pet shops resume business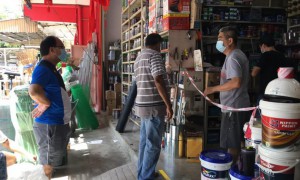 Twenty days into the movement control order (MCO), hardware shops, spare part shops (agriculture and industrial machinery), pet shops and shops that sell agriculture inputs have finally been allowed to open twice a week in Penang starting from yesterday.
The MCO, which took effect on March 18, has been extended from March 31 to April 14 to help contain Covid-19.
In view of this, the Buletin Mutiara team conducted checks on several shops under these categories on the island and found that some of these shops have seized the chance to open their shutters while others have chosen to remain closed.
One of the hardware shops, Hurp Seng Hong trading Sdn Bhd, on Jalan Perak, was seen to have many customers after it reopened for business.
Its proprietor Chua Swee Leng said there was an increase in sales today compared to the normal days.
"It is good that the government is allowing us to operate twice a week, which is better than not operating at all.
"I see that those who came in today were purchasing household items for maintenance work, such as materials for plumbing works, bulbs and even paint.
"I am taking precautionary steps by allowing only three to four people to enter the shop and is also making sure that the social distancing rule is practised,'' Chua told the Buletin Mutiara team today.
A spare part shop along Jelutong Road was operating with only limited services (essential service).
"We have reduced the number of workers in our shop, as we just provide services which are considered as 'emergency services' such as replacing battery and repairing tyres.
"Apart from that, I have also told my staff to wear their mask and to use sanitiser which I have bought for them.
"The customers are only allowed to sit outside as a preventive measure in curbing the outbreak,'' said shop owner Tan Bee Ling.
A pet shop owner, who only wants to be known as Ooi, said she only provides services to her regular customers.
"It is good that certain businesses, including pet shops, have been allowed to operate. As for now, I only offer services to my regular customers,'' said Ooi.
It was announced on April 3 that all these shops could operate on every Monday and Thursday from 8am to 2pm.
Source: Buletin Mutiara