Iconic Regency – Where Convenience Meets Luxury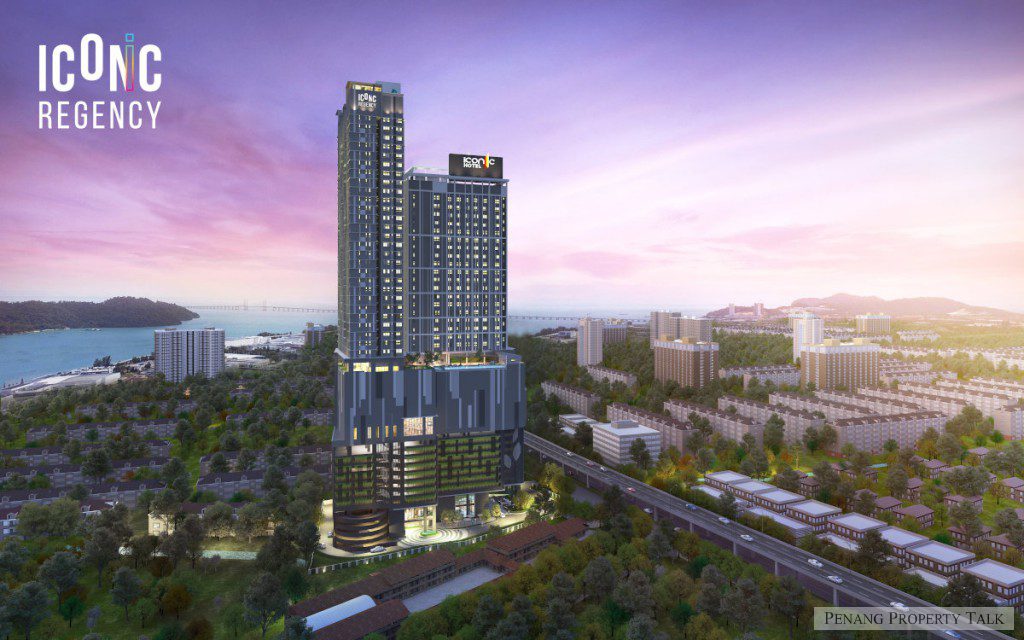 Iconic Regency is a freehold development nestled within the established commercial district and residential neighbourhoods for both local and expatriates in the middle of Sungai Nibong, Penang. Iconic Regency is linked to the Iconic Hotel – 4-star business class hotel and within walking distance of the proposed LRT Station. The 42-storey Iconic Regency features 268 units of fully furnished Residential Serviced Suites offers from studio to three bedroom apartments, a greater flexibility for residential and investment purposes.
Bespoke lifestyle is now becoming a reality by Iconic Regency. With a total of 268 units only, the low density exclusive Residential Serviced Suites come with 6 different layouts. Built-up area up to 850sqft and Dual Key Concept (1,200sqft) designed to suit a variety of lifestyles. The fully-furnished unit's efforts have been spared to carefully design every space and rooms. All the fitting and finishing is selected with the utmost design to magnify the finest characteristic of its personal space.
Facilities Deck @ Level 42, Rooftop and Level 13
Staying up high in Penang isn't hard but the challenge of pampering yourself swimming at the top is hard. The infinity pool of Iconic Regency comes with a panoramic view of Penang City and Penang Bridges. Tell apart from the rest, there are multiple possibilities to pass time with your loved one here at the sky-high BBQ pit, Children Playground, Gymnasium, Jacuzzi and many more awaits you at Iconic Regency. A perfect blend of relaxation and intimacy created just for your enjoyment both at the rooftop Level 42 & Level 13. Situated within the bustling areas of an employment hub, Iconic Regency awards fuss-free rental assurance that come with "Exclusive Maintenance Management Services".
Strategic Location
Iconic Regency location offers the convenient access to Georgetown City within 13km via Tun Dr Lim Chong Eu Expressway. Also, the easy access to the main interstate bus terminal for traveller's commuting into and out of the Penang Island to Butterworth. It is just minutes away by numerous of amenities:
• Queensbay Mall • Eastin Hotel • Bayan Lepas Free Trade Zone • Penang International Airport • Vistana Hotel • Tesco • E-Gate Commercial Centre • Sunshine Square Supermarket • Giant Hypermarket • Bukit Jambul Complex • University of Science Malaysia • Inti College • Subterranean Penang International Convention and Exhibition Centre (SPICE) • Bukit Jambul Country Club • Sungai Nibong Bus Terminal • Pantai Mutiara Hospital
In addition, Iconic Regency situated between the two proposed LRT stations by State Government; Pesta Station & Sg. Nibong Station which enhances the seamless connectivity to Penang International Airport & Georgetown City.
Iconic Regency show units open from Monday to Saturday 10am-6pm. Call Iconic at 012-739 7999 today for more details.
Register your interest here