KPKT to work with financial providers to address loan rejections by banks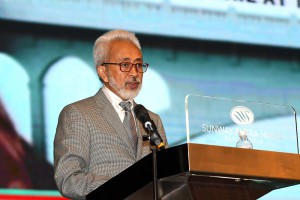 To ease the housing glut which mainly arises from loan rejection, the Housing and Local Government Ministry (KPKT) is looking to work with financial providers other than banks to provide home loans.
Its deputy minister Datuk Raja Kamarul Bahrin Shah Raja Ahmad Baharuddin Shah (pictured) said there is still demand for housing but due to strict financial requirements set by the banks, many potential homebuyers could not buy the houses they desire.
"Hence, we are looking to collaborate with other sectors to ease the people's financial burden," he said at the press conference after the launching of Placemaker Week ASEAN today.
He added that the government had also extended the home ownership campaign (HOC) which commenced early this year for another six months as there is a demand for it.
During the first six months of the HOC, over 8,000 units were sold with a transaction value worth RM5.7 billion.
However, this only constitutes 30 percent of the total units offered.
Meanwhile, Raja Kamarul Bahrin said that as cities continue to develop, it is important to remain sustainable and liveable, which is in line with the United Nation's (UN) Sustainable Development Goals.
"As the community grows, public spaces are important for everyone, the government and local authorities will continue emphasising the need for it. I hope that the private sector will continue collaborating with us to create better common spaces," he said.
The Placemaker Week ASEAN, the first Asean placemaking programme to promote community driven public spaces, is presented by ThinkCity and UN Habitat and co-presented by Nextdoor Property Communications.
It will be held at selected locations in Malaysia including Johor, Penang and Klang Valley from Nov 4-8, focusing on three themes — waterfronts, historical streets and healthy communities.
Source: EdgeProp.my