Aspen Group to finish part of Bukit Kukus paired road project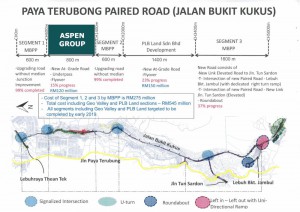 The state government has found a new developer to complete one portion of the Jalan Bukit Kukus paired road project that hit a snag due to financial constraints faced by the previous private developer.
Penang work, utilities and flood mitigation committee chairman Zairil Khir Johari said the previous developer Geo Valley Sdn Bhd had entered into an agreement with Aspen Group for the latter to take over work on the 0.8km stretch.
The 0.8km portion, costing RM120mil, is expected to be completed in 2022.
"The other stretch, which is being built by PLB Land Sdn Bhd and costing RM150mil, has also hit a snag but works are still ongoing.
"We will be getting updates on the progress from PLB," said Zairil during a site visit to the Lebuh Bukit Jambul stretch.
Zairil said the section spanning 2.8km is financed by the Penang Island City Council (MBPP) and cost RM275mil.
It is 78% completed.
"Based on the time frame, the section should be 86% completed now.
"However, it was delayed by a stop-work order lasting 100 days due to a landslide which killed nine foreign workers and injured four others.
"Despite that, the MBPP stretch should be ready in June 2020.
This portion will include a new elevated road to Jalan Tun Sardon, a roundabout and a new paired road to Lebuh Bukit Jambul.
"We expect it to open to traffic by August next year," he said.
State housing, town, country planning and local government committee chairman Jagdeep Singh Deo, who was also present, said the cost for MBPP's portion actually totalled RM370.1mil.
"The construction cost was RM275.6mil while the land acquisition came to RM83.5mil and consultant services cost RM11mil," he said.
"The project commenced in January 2016 and as of last year, the MBPP has spent RM275.8mil for the construction and land acquisition costs.
"This year, MBPP allocated RM44.2mil and next year, there will be RM37.355mil for the project," he said.
Jagdeep said the project had been taking up 40% of the city council's allocations for projects each year since 2016.
The project consists of three sections with MBPP constructing 2.8km of the stretch while the two developers are responsible for the remaining 1.4km (RM150mil) and 0.8km (RM120mil).
The works include the junction improvement of Lebuhraya Thean Teik, widening of the existing Jalan Bukit Kukus, construction of new roads and an elevated link connecting Jalan Bukit Kukus to Lebuh Bukit Jambul.
There will also be construction of the elevated road from Jalan Paya Terubong to Jalan Tun Sardon and an intersection of new paired road to Lebuh Bukit Jambul with a dedicated right-turn ramp.
Source: TheStar.com.my