National Affordable Housing policy launched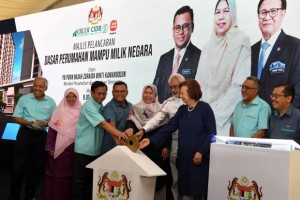 China-based developers have been roped in to offer rent-to-own affordable homes that are built using Industrialised Building System (IBS), says Zuraida Kamaruddin.
The Housing and Local Government Minister said Malaysia had last month inked deals with eight China-based companies to invest in Malaysia, transfer pre-fabrication construction technology, and offer rent-to-own option to buyers.
"But we have imposed a condition that the China-based companies must work together with local companies," she said.
She said this after launching the National Affordable Home Policy, the National Standard, and Construction Industry Standard at Elmina Centre here Saturday (May 11).
The MoU was signed during the Belt and Road Initiative in Beijing last month, she said.
Zuraida also allayed fears that the China-based companies would pose a threat to local players.
"At present, we only have 11 local companies involved in construction using IBS, and they only have the capacity to build 19,000 units annually.
"With the entry of the China-based companies we can build many more affordable homes to meet our target (to build one million units in 10 years.)
"They (China-based companies) will bring technology and innovation, and invest in IBS factories (to manufacture pre-fabricated building materials).
"With IBS technology, we can lower the cost of construction in terms of lower cost of material, lower labour cost, and shorter timing (to complete construction)," she said, adding that it would also reduce dependence on foreign labour.
She said by using IBS technology, 500 homes could be built within six months.
On whether local companies would also offer rent-to-own scheme to help buyers own homes without the burden of paying deposits, Zuraida said the authorities were still negotiating with local banks.
She said the price of affordable homes was capped at below RM300,000, and that the cost differed according to locality, town and state.
Zuraida also announced that an IBS Academy would be set up in Awana Kijang, to train locals on IBS building techniques.
"Using this technology, building homes would no longer be regarded as a 3D (dirty, difficult and dangerous) job," she said.
Source: TheStar.com.my