Pan Island Link 1's EIA report approved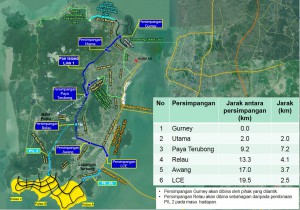 The Environmental Impact Assessment (EIA) report for the proposed Pan Island Link 1 (PIL1) in Penang has been approved by the Environment Department (DOE).
Chief Minister Chow Kon Yeow said the approval was conveyed to the state via a letter from DOE dated April 10, 2019.
"With this approval in place, the state considers it a major milestone towards enabling the project to move on the ground," he said in a press conference in Komtar Monday (April 15).
Chow added that the next phase of work will be the detailed design phase and appointing the best work package contractors through open tender.
Earlier, The Star broke the news in an exclusive report that the construction on the RM9bil light rail transit (LRT) line and the RM9.6bil PIL1 were scheduled to start in June next year.
The Star learnt that the PIL has received approval from the DOE – the federal regulator overseeing the EIA reports – in March while the LRT is expected to receive a conditional approval from the Transport Ministry in May.
Both mega projects will be tendered to local and international companies at the end of the year.
Source: TheStar.com.my