Penang also has a lot of proposed projects tabled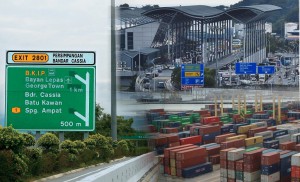 The Northern Corridor Implementation Authority (NCIA) has proposed several projects to implement in the four northern states, says Chow Kon Yeow.
The Penang Chief Minister said the projects in Perlis, Kedah, Penang and Perak were to be carried out by the government or through private financial initiatives.
He said this was discussed during the NCIA Council meeting chaired by Prime Minister Tun Dr Mahathir Mohamad on Monday (March 18).
"The purpose of the meeting was to get the council's endorsement to proceed with implementation.
"Penang also had a lot of proposed projects tabled during that meeting," he said on Wednesday (March 20).
Chow said among projects mentioned were the Interchange in Batu Kawan, Industry 4.0 programmes for SMEs, expansion of Penang Port, extension of Northern Corridor Highway to the Second Bridge, and the expansion of Penang International Airport to increase its current capacity from 6.5 million passengers per year to 16 million.
Other projects were an aquaculture project in Balik Pulau, Penang Port and the link to Butterworth Outer Ring Road, a bridge linking Batu Kawan Industrial Park to Nibong Tebal, tourism projects and human capital development programmes.
Chow said he had also requested the inclusion of Penang Transport Master Plan projects.
"We hope that all these projects will be implemented in the four states so that the Northern Corridor will be a catalyst for growth," he added.
Source: TheStar.com.my