Penang Transport Master Plan is to sustain island's development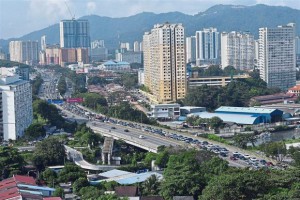 Cities become more liveable, progressive and sustainable when there is enhanced accessibility and connectivity to move people around and this is achieved by providing sufficient and efficient public transport.
However, moving people solely on public transport is not a total solution. We cannot ignore the fact that private vehicle ownership will continue to rise in developing countries and to cater to this, roads are essential.
Through the Penang Transport Master Plan (PTMP), the Penang government has set a target of 40% mode share for public transport and 60% for private vehicles. It is the same mode share target set by the federal government.
While the 40% target is still way below many cities, Penang currently starts from a base point of barely 5% public transport mode share.
"With the right incentives and stimuli, I believe it is possible to achieve a gradual shift in mode share and get more people on public transport.
"Coupled with fast-evolving technology in producing cleaner and zero emission cars, the impact of pollution on the environment will be greatly reduced," said Penang Works, Utilities and Flood Mitigation Committee chairman Zairil Khir Johari.
As a developing country, Malaysia's economic growth and the demand for mobility has caused a rapid rise of vehicles on the road.
In Penang over the last 10 years, the number of vehicles has increased by 52% (from 1.8 million to 2.7 million in 2017).
At the same time, there remains only one main spinal road in Penang – the Tun Dr Lim Chong Eu (LCE) Expressway – that is constantly congested with standstill traffic during peak hours.
Gridlock in Penang has not only resulted in productivity losses but also causes inefficiencies in economic activity and degradation of the environment.
In short, traffic congestion is limiting economic growth and impacting quality of life.
"To meet the needs of the people and to sustain the development of Penang, there is no doubt that we need to improve the basic road network on the island," said Zairil.
There are many cities that recognise the need to encourage public transport as well as develop an efficient and viable road network.
Singapore is one such example, where expressways are constantly being built and upgraded in tandem with rail lines to meet the demand of increasing vehicles despite having a public transport mode share of 67%.
Over the last decade, while the number of vehicles in Singapore increased by only 13% (from 850,000 to 962,000), Singapore has built two expressways in that period. Today, Singapore has 11 expressways and six major rail lines.
"It is important to understand that while provision for public transport is needed for a more sustainable way to commute especially during peak hours, highways like the Pan-Island Link 1 (PIL1) are needed to disperse traffic away from the local roads thus freeing road space for the last kilometre connection to public transport such as buses and the planned LRT," said Zairil.
PIL1 will function as a new spinal road connecting the main residential corridors in the north and central region of the island to the industrial corridor in the south.
There will be five interchanges at strategic locations for traffic dispersal: Gurney, Utama, Paya Terubong, Tun Dr Awang and LCE. With PIL1 as the second spine, the load on LCE will be relieved.
Meanwhile, the Bayan Lepas LRT will link George Town to the Penang International Airport, passing by a corridor with the highest trip demands (Komtar, Macallum, Jelutong, LCC Terminal and Bayan Lepas FIZ). This will form the main backbone for public transport as it will provide connectivity within the island, and eventually to the mainland.
To ease traffic congestion in Penang, the LRT and PIL1 should be implemented concurrently. The LRT on its own will not be able to reduce traffic jams.
In the case of PTMP, Penangites need to look beyond the initial inconveniences during the construction years.
"If we want to address the traffic congestion problem and achieve the goal of a more liveable and sustainable Penang, we need to shed the 'not in my backyard' mentality and instead put the needs of the state and our future generations in focus," said Zairil.
Source: TheStar.com.my