Land reclamation will increase the size of Penang Island by 10%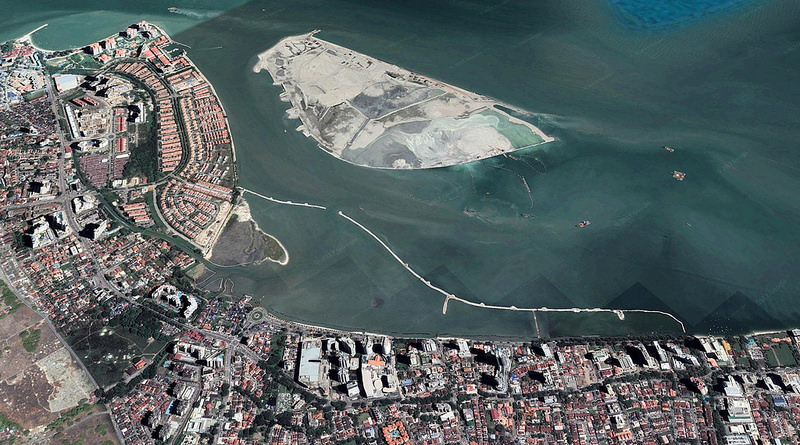 Land reclamation is big business in Malaysia. Money is made from selling plots of newly created land from the sea to developers.
Several states in the peninsula have introduced large-scale reclamation initiatives, many strategically placed in prime locations.
The latest large-scale project is in Penang that will see the reclamation of three man-made islands on the southern part of the island, measuring about 4,500 acres.
The project is part of the ambitious Penang Transport Master Plan (PTMP), where the state plans to auction the reclaimed land to fund the master plan.
"The state has very little land as a whole in Seberang Perai and the value of the land on the mainland is lower (20%-40%) compared with island land," it says.
The reclamation work is expected to cost about RM4bil, while the whole PTMP project, which includes rail systems and highways, will cost RM27bil.
Other reclamation activities that have taken place on Penang island were undertaken by the private sector, by Eastern & Oriental Bhd (E&O). The project is known as Seri Tanjung Pinang (STP), spanning over 1,000 acres of reclamation land.
The project first started in 2006 and is now in the second phase of its reclamation work.
According to a 2017 research report entitled "Land reclamation and artificial islands: Walking the tightrope between development and conservation" by Su Yin Chee from Universiti Sains Malaysia, the area of reclaimed land in Penang island would be about 7,981 acres in the coming years.
"Reclaimed land is expected to dramatically increase between 2017 and 2030 with the construction of five new artificial islands on the north-east and south coasts," the report says.
That would increase the size of Penang Island by 10%. In comparison, a lot of land in Singapore, about 25%, is from reclamation efforts from the past, including the prime Marina Bay area.
Another state that is also embarking on big-scale reclamation work is Johor. However, unlike Penang, the reclamation and land ownership belongs to the private sector.
One of the most notable projects is Forest City spanning over 3,942 acres on reclaimed land in the Straits of Johor.
It has been reported that Melaka is embarking on mega-reclamation work, which is part of its ambitious RM43bil Melaka Gateway project.
The project comprises three reclaimed and one natural island totalling 1,366 acres, set in a strategic and idyllic area of the Straits of Malacca, according to the Melaka Gateway website.
It is worth noting that land reclamation is nothing new in Asia. Countries such as Japan, Hong Kong and Singapore have been doing it for decades.
Other countries in Asia are also embarking on mega-reclamation works. The Philippines is reclaiming 1,010 acres from the sea for its New Manila Bay and Sri Lanka is building a new financial district called Colombo International Financial City on reclaimed land.
Source: TheStar.com.my