Yearning for green spaces and lasting homes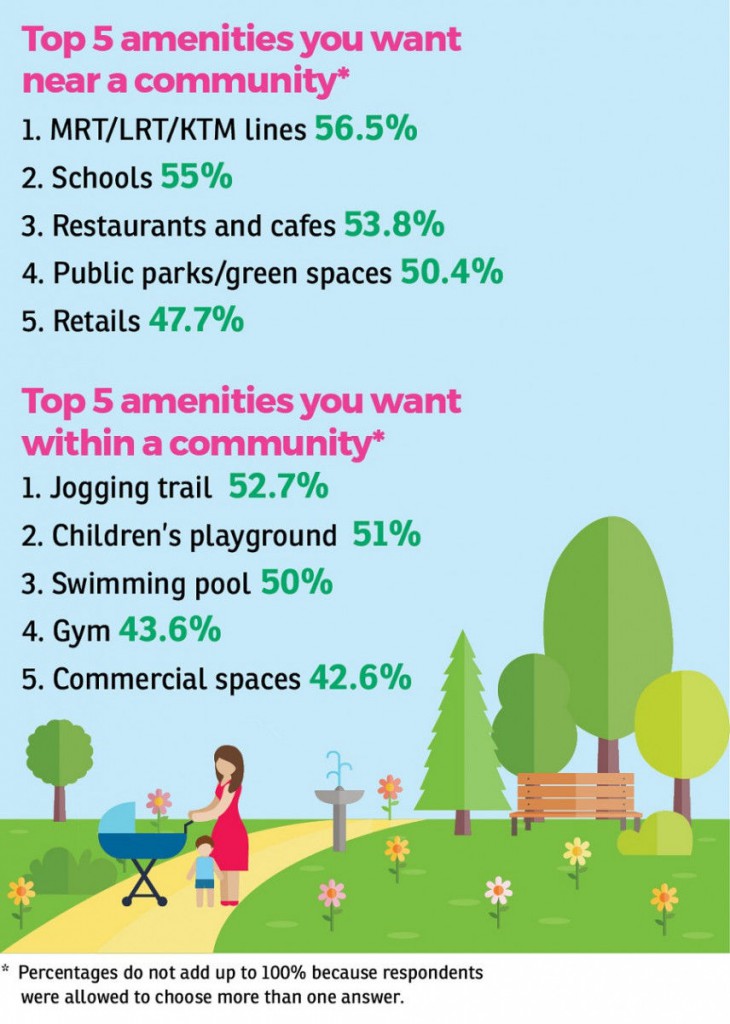 There seems to be a growing environmental awareness among Malaysians, if the Lafarge-EdgeProp MYHOME survey findings are of any indication.
Findings from the six-week-long survey show that while the top two considerations when buying a home are convenient location (74.1%) and security (71.8%), having natural green spaces garners 51.4% to be rated as the third top priority for Malaysian homebuyers. The demand for green spaces is ahead of other factors such as built quality (42.2%), returns on investment (21.9%), easy ownership scheme (19.1%), developer reputation (12%) and prestigious address (7.5%).
Organised by Lafarge Malaysia and EdgeProp.my, the MYHOME survey received close to 14,000 respondents. It sought to find out what the ideal home of the majority of Malaysians looks like, as it will form the basis for the design of homes to be built by the country's top property developer S P Setia Bhd.
Public parks and green spaces are also among the most important amenities that Malaysians want near their ideal home (50.4%), almost on par with other amenities such as public transportation including the mass rapid transit and light rail transit lines (56.5%), schools (55%), and restaurants and cafes (53.8%).
When asked to pick their favourite optional spaces in their ideal home, the respondents' top two choices are balcony and garden — again reflecting their love for the outdoors and nature.
Notably, most of the respondents are not just hoping for more greenery but also want to live in homes that offer good ventilation (65.6%) and ample natural lighting (40.7%), two hallmarks of a sustainable development.
Green lungs, lush landscaping and open spaces are aspects that may have been less prominent in urban developments due to land scarcity and high land cost. However, it is clear that urbanites are yearning to live amidst nature.
"Landscape plays an invaluable role towards sustainable development. People are concerned about their living and environment quality.
"Landscape provides recreational opportunities and enjoyment, and also encourages healthy lifestyles for its users. Thus, landscape is now considered a base for well-being and inspires living with sustainable values," says Institute of Landscape Malaysia president Assoc Prof Osman Tahir.
Osman also notes that landscape and greenery also contribute to the social, cultural and psychological aspects of human lives, which are crucial for the liveability of our modern lifestyle and living environment.
"It provides an escape from the physical and emotional pressures of daily life," Osman adds, emphasising that without landscape and green infrastructure, a space will be considered dead and without any soul or spirit.
A home for all ages
The survey results also show that most households comprise around three to five persons (63.6%), with the majority stating that they range from as young as 19 to as old as 60 years of age (86.1%).
S P Setia executive director Datuk Tan Hon Lim notes that a teenager's needs will differ from his parents and even more from his grandparents. "A home must have a certain 'flexibility' to cater for the needs of three generations. A good example is our Starter Homes series in Setia Alam, where each unit has an 8ft backyard that is renovation-ready. While the space can be used as a drying area, it can also easily accommodate an extension as the foundation and slabs have already been laid in, should the residents need more space when the family grows bigger.
"Some of our other projects in the Klang Valley and Johor have an open-plan concept, whereby the ground floor can accommodate a room for aged residents and equipped with an en-suite bathroom. Should the family decide that this is not needed, they can tear down the walls to make their living area more spacious."
Source: EdgeProp.my