Special master plan to develop southwest district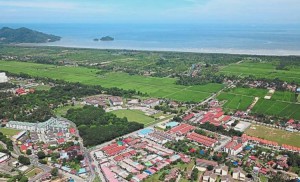 The state government will ensure that development in each district is enjoyed by the people, said Chief Minister Chow Kon Yeow.
Chow said for that purpose, he suggested that a special master plan for each district be developed especially the southwest district.
According to him, the state government does not have a special master plan for the southwest district over the past 10 years, which is seen as somewhat marginalised.
"Perhaps the time has come that the state government together with the Penang Island City Council (MBPP) as the local authority, the southwest district and land office and all agencies start a development masterplan here (southwest district).
"This way alone, we can realise the potential of the southwest district that can be further developed for the well-being of the local people," he said during a special visit to the southwest district and land office near Balik Pulau recently.
Chow, who is also Tanjong MP and Padang Kota assemblyman, said he will follow-up at the state level by highlighting relevant proposals to the state executive council for discussion and review.
"Not only that, the state government is also planning to implement a state development plan for the next five to 10 years," he added.
Source: TheStar.com.my