Mainland Penang is riding on the crest of development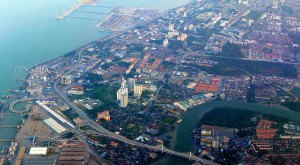 by Alex Tan Bok Hooi
Every time I touched down in Penang, I will find time for my favourite wantan mee stall, tucked in a little corner in Bukit Mertajam. Or had a quick bite of roast pork noodles in Kampung Benggali. Journey to these places takes longer nowadays as traffic congestion eats into your schedule. A sign of continuous development I guess.
Now you see condominiums sprouting everywhere like mushrooms in mainland , especially near the first bridge or the ferry terminal in Butterworth. During my student days condominiums are a scarcity yet nowadays its the current flavour due to the seemingly growing appetite for alternatives to landed homes. Yet condominium prices have skyrocketed not to mention landed properties in mainland, far beyond our imagination. Suddenly mainland Penang is a beacon of opportunities for development. House prices doubled in as many years and condo living is as expensive as staying in landed homes of yesteryears.
On one hand, it makes us proud that the moment has arrived – mainland Penang is riding on the crest of development.  Yet the price of development is distinctive. Traffic jams, noise pollution in the streets and higher cost of living are no longer a figment of our imagination.  As I navigate my way to the wantan mee stall, I still yearn for the days where pace of development is not at breath neck speed. Simply because when you run too fast there are some things that you need to sacrifice along the way.
When the bowl of wantan mee from the makeshift stall, which has been operating for umpteen years, finally arrives at my table after a long wait, I realize that sometimes its always better to seek some form of balance. A development that promises a better tomorrow yet upholds the fundamental needs to find balance. A balance of ying and yang.
Alex Tan Bok Hooi, a physicist turned novelist
http://www.livefree.my