World's tallest rope course opening in Komtar this month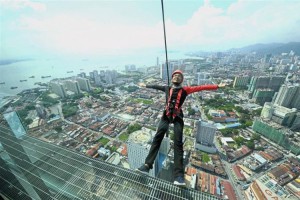 Thrills await visitors to Gravityz, the world's highest rope course, which will open this month at Level 65 in Komtar, Penang.
There will be six obstacles along the 90m walk which is 239m above ground on the outside of Penang's landmark monolith.
Get set for adrenaline-filled moments as you go through challenges such as 'A Great Bridge', 'Z-Wire' and 'G-Rocky'.
Gravityz operations director Henry Wong said it would take about 30 minutes to complete the course.
Should anyone find that heady altitude too much to bear, they may choose to step out of the course at any station.
"Participants will be outside the building, walking on narrow platforms and ledges while looking down at the city and traffic under their feet.
"The wind can be quite strong at times but everyone will always be safe because of the many safety measures in place.
"The platforms are designed with obstacles to increase the challenge," he said during a preview recently.
Wong said there was no age limit but participants would be led by an instructor in groups of six persons that must not exceed 600kg.
Also present at the preview were Chief Minister Lim Guan Eng and Penang Youth and Sports Committee chairman Chong Eng.
Pre-bookings are required and tickets will range from RM199 to RM399 per person.
Priority will be given to MyKad holders from Penang.
The attraction will be open from 10am to 6pm daily.
Visit www.thegravityz.com for more details.
Source: TheStar.com.my