OPR on the rise. What happen next?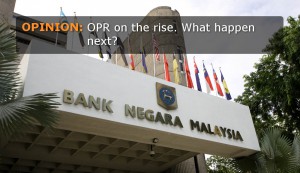 by Miichael Yeoh
The recent announcement by Bank Negara Malaysia (BNM) sees the increase of Overnight Policy Rate (OPR) by 25 basis points from 3.00% to 3.25%.
"With the economy firmly on a steady growth path, BNM said the Monetary Policy Committee (MPC) decided to normalise the degree of monetary accommodation." Reported by  NST
Thus BNM thinks it's about time to increase the OPR based on the strengthening of Malaysia's economy. OPR had been stagnant since July 2016
Some banks Base Lending Rate (BLR) and Base Rate (BR) that increases:
Public Bank (Effective 30th Jan 2018 onwards) BLR 6.72% to 6.97%, BR from 3.52% to 3.77%
CIMB (Effective 2nd Feb 2018 onwards) BLR 6.75% to 7%, BR 3.9% to 4.15%
Maybank (Effective 29th Jan 2018) BLR 6.65% to 6.95%, BR 3.00% to 3.25%
Affin (Effective from 30th Jan 2018) BLR 6.5% to 6.75%, BR 3.85% to 4.10%
Hong Leong Bank (Effective 30th Jan 2018) BLR 6.79% to 7.04%, BR 3.78% to 4.03%
What will happen to Malaysia with such an increase?
Banks will increase their profits
Fixed deposit rates will increase (Good news for those who likes savings)
Base Lending Rate (BLR) and Base Rate (BR) will increase (Thumbs down for borrowers)
Inflation will decrease. We are at 3.7% in 2017.
Let's talk about BLR and BR. If OPR increases, they will go up also. What will happen to the borrower's instalment?
Monthly installment goes up
Maintain monthly installment but your borrowing years will increase.
In summary, something got to increase.
For example:

Loan amount: RM 500,000

Current interest rate: 4.5 %

Tenure: 30 years

Current installment: RM2,553.43

An increase of 25 basis point equivalent to 0.25% to 4.75% will see an increase of instalment of 2,608.24. An increase of RM 54.81. Some people will say this is not much some says otherwise.
In reality OPR are volatile. In can either go up or go down. When you buy a house are you going to be worried for the next 30 years when you take up a loan with the bank?
In my seminars and I mentioned before, borrowers must know how to hedge against the interest rate as we will be taking the loan for long term. It will be too late if borrowers start to panic now. Do you know 20 years ago when I was working in the bank the interest rate is more than 10%.
What you should be doing is to start proper planning whether you are the first time property buyer or investor.
I have a good friend. He drove all the way from Kuala Lumpur to Penang to meet me. He was worried after he buys the house what will happen if interest rate were to increase. This is the first time he is buying a house and he does a very carefully planning as this will be his biggest borrowing going forward.
What I told him next he is still doing until today. Since he already do a proper planning, he will know how much excess fund he has after deducting his instalment. I encourage him to take up a flexi loan. Put the excess fund into your flexi account. What will happen is that it will help to reduce the interest payable. When the interest rate increase, he will not feel the extra burden as he has already paid more than his installment. This is called hedging against interest rate.
I always belief in doing proper planning. I hope my write up helps.
See you on my next article.
– Miichael Yeoh
(CEO & Founder of GM Training Academy PLT)
(www.miichaelyeoh.com)