Possible delay in Penang three paired roads project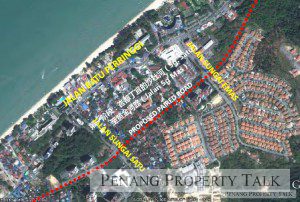 The construction of one of the roads in the Penang government's three paired roads project, which is part of the controversial RM6.3 billion undersea tunnel project, is expected to be delayed.
State Public Works, Utilities and Public Transportation Committee chairman Lim Hock Seng blamed the possible delay due to an ongoing investigation by the Malaysian Anti Corruption Commission (MACC).
He said the Penang government had planned to begin the construction of the road from Tanjung Bungah to Batu Ferringhi by June.
He said it could be delayed further, despite already having received the Environmental Impact Assessment (EIA) approval by the Department of Environment (DOE) late last year.
"We need to conduct land acquisition first (before we begin the construction). According to the plan, it (the project) should begin by June.
"But with the MACC investigation, we are now unsure. It may be delayed," he said.
The DAP-led Penang government had proposed to build three paired roads on the island, and said this was to alleviate traffic congestion especially during peak hours.
The proposed highway roads included the 10.53km north coastal paired roads from Tanjung Bungah to Teluk Bahang, the 5.7km paired road from Air Itam to the Tun Dr Lim Chong Eu Expressway bypass, and a 4.075km paired road from Gurney Drive to the Tun Dr Lim Chong Eu Expressway bypass.
The paired roads project is one of two components under the proposed RM6.3 billion Penang undersea tunnel project. The other is the 7.2km undersea tunnel linking Gurney Drive on the island and Bagan Ajam on the mainland.
The tunnel project had raised numerous controversies in recent months, especially the high RM305 million price tag for the technical studies as well as a 22-month delay.
The controversial project is now a subject of an MACC investigation. To date, four people, including a Datuk Seri, two Datuks and a female engineering consultant, have been detained in the probe.
Meanwhile Lim also confirmed that the Tanjung Bungah to Teluk Bahang road would run through the 1.62ha forest reserve in Teluk Bahang, as revealed by Penang Gerakan recently.
Source: New Straits Times Online