Penang theme park to get world's longest water slide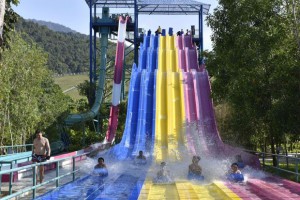 The longest water slide in the world – spanning one kilometre – is being planned for the ESCAPE theme park in Teluk Bahang here.
It will see thrill-seekers ascend 420m by chairlift to the top of a hill in the theme park to reach the start of the slide.
"From the hilltop, people will zoom down the slide which will cross Jalan Teluk Bahang beside a pedestrian link bridge and end in a swimming pool inside our water theme park," said ESCAPE founder Sim Choo Kheng.
"The hilltop will also be the start of other rides like the luge (downhill sleds), zip coasters and tubby slides."
The water theme park features 20 attractions.
Sim added that the water slide and other hilltop attractions, collectively known as Gravityplay, are slated to be opened by December next year.
Chief Minister Lim Guan Eng complimented ESCAPE for being rated the top theme park in Malaysia by TripAdvisor.
"This theme park brand was born in Penang and created by a Pe­­nangite.
"We will soon see the brand expand into other countries.
"I have been told that Sim Leisure Group has started negotiations for a major ESCAPE theme park in Thai­land," he said.
Source: TheStar.com.my