George Town, KL best cities to retire in Asia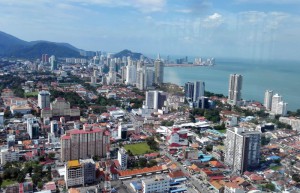 George Town and  Kuala Lumpur are the only two Asian cities to make the list in the Top 10 of The World's Best Places to Retire in 2017 from Live and Invest Overseas (LIO), a much-respected international journal.
The list is quoted by Forbes magazine as having gone through a "seismic shake-up" too, because eight of the cities which made the list in 2016 were dropped.
The two Malaysian cities, ranked six (KL) and 10th (George Town), join six cities from Europe and two in Mexico into the esteemed annual list.
They are Algarve (Portugal, ranked 1 for the fourth year in a row), Valletta (Malta, 2 for second year), Mazatlán (Mexico, 3), Abruzzo (Italy, 4), Saint-Chinian (France, 5) Kuala Lumpur (6), Lisbon (Portugal, 7), Budapest (Hungary, 8), San Miguel de Allende (Mexico, 9) and George Town (10).
KL's selling point, as home to more than seven million people, is that its "not quiet and remote, yet one of the world's most affordable, exotic and comfortable places to retire", according to LIO.
"Travel a bit out of the city and you'll hit rural villages, where life is slower. Foreigners are welcome in Kuala Lumpur and almost everyone speaks "adequate English."
On George Town, the capital of Penang state, LIO said it was "smaller and slower" compared with KL.
"However, the island has excellent medical care at reasonable prices and that locals communicate largely in English.
"ECA International called George Town the most livable city in Malaysia and a few years back, Lonely Planet dubbed Penang the top food destination in the world, with dining choices which include Chinese, Malay, Indian, Thai and more, going for about US$3 (RM13) a person," LIO was reported to have said.
Forbes also noted that Malaysia, as well as Mexico, Malta and Portugal are the only countries which appear in more than one list on living, retiring and investing abroad.
According to Leif Simon, the investment editor of Live and Invest Overseas, many cities were dropped from the list because of rising costs.
"Part of it is that a lot of the areas we've talked about in Latin America, have become more expensive. And European destinations do so well on things like infrastructure," he was quoted as saying by Forbes.
Source: FMT News